Peru and Chile sign next week 'free of mines' designated areas along their border
Saturday, December 15th 2012 - 20:56 UTC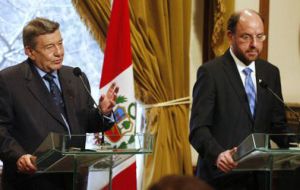 Next week Chile and Peru will have concluded sweeping their border of anti personnel and anti tank mines, announced Claudio de la Puente, head of the Latin American Desk at the Peruvian Foreign ministry.
"In the week beginning December 17 demining work will be over and an official certification of the cleared area, free of mines, will be designated by the governments of Chile and Peru signalling the end of the job", said De la Puente interviewed by the official Andina news agency.
The action which was started in mid October will be certified next Thursday by representatives from both countries and the Norwegian People's Aid, in charge of clearing the mines, said the Peruvian official.
In this last leg of the task an estimated 300 mines have been cleared along the Peruvian-Chilean border. The mine fields date several decades back when the two countries were ruled by military governments and on more than one occasion were on the verge of a major conflict.
Last February flash floods swept a group of mines from the north of Chile to the border area with Peru which forced the closing of the frontier path for several days. Further more a Peruvian civilian was killed last May when he crossed an area out of bounds.
Last September the Foreign ministers from Peru and Chile, Rafael Roncaglio and Alfredo Moreno subscribed at the 67th UN General Assembly a document to regulate the de-mining of the zone.
Thousands of antipersonnel and anti tank mines were planted in Chile along border areas during the decade of the seventies under dictator Augusto Pinochet (1973/1990), at a moment of great tension with neighbouring Argentina, Peru and Bolivia.
According to a recent report from the Chilean government since 2002 over 50.000 antipersonnel and antitank mines, (equivalent to a third of the 181.814 planted) have been cleared.