WWF blasts EU fishing quotas ahead of ministerial meeting
Monday, December 17th 2012 - 21:00 UTC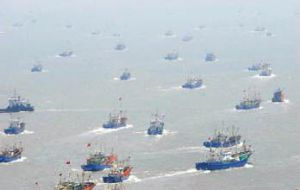 European ministers have approved the catching of millions more tons of fish than scientists have advised over the past nine years, a report has shown. Fisheries ministers, who meet annually to decide quotas for stocks across Europe, have only strictly followed scientific advice on fisheries in 13% of their decisions, the report by World Wildlife Fund, found.
On average, quotas have been set 45% higher than levels recommended by scientists, which means ministers have allowed the over-fishing of more than 6.2 million tonnes of fish beyond levels proposed to ensure that stocks are safely maintained.
Almost half the stocks in the North East Atlantic are judged to be over-fished, while the figure is as high as 80% in the Mediterranean.
WWF is calling on members of the European Parliament voting on reform of the Common Fisheries Policy, which governs the industry across the EU, next week to put requirements to follow scientific advice at the heart of stocks management.
The conservation charity's report accused governments of systematically ignoring scientific advice and setting quotas for short-term political and economic gain at the expense of long-term sustainability.
The report also said the EU had spent £6 million on scientific advice since 2003 that ministers were not then taking into account. Recent analysis suggests the potential benefits to the EU fishing industry of managing stocks sustainably could be £1.7 billion annually.
WWF wants MEP to ensure that the reformed policy includes goals to manage fish stocks sustainably by 2015.
Fisheries need to be managed through multi-year plans and by stakeholders getting round the table on a regional level to reach agreement, to limit the annual horse-trading over quotas in Brussels and ensure stocks recover to healthy levels.
The charity also called for an end to the wasteful practice of discards in which fish are thrown back overboard so that fishermen do not exceed quotas.
The European Parliament is voting on fisheries policy reform next week, while fisheries ministers are meeting in Brussels to agree annual EU quotas.
Helen McLachlan, senior marine policy officer at WWF said: "We need to put past mad management practices behind us. The message is simple - listen to science and let fish stocks recover."
"MEPs now have a unique opportunity to bring about a major change in how we manage Europe's fisheries for the benefit of fish stocks, the industries that rely on them and the wider marine environment.
"They need to vote in favour of ambitious targets that will recover fish stocks and change the way we manage fisheries with more participation from those involved in the fisheries".