State of the art dairy farm in Uruguay with 8.000 milking cows and self generating power
Wednesday, December 19th 2012 - 19:34 UTC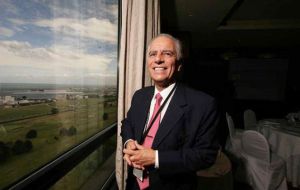 A state of the art dairy farm with 8.000 milking cows that will export powder milk, create 300 qualified jobs and generate its own energy from the animals' dung is scheduled to open its first phase next April in Durazno, Uruguay.
The whole operation is demanding over 160 million dollars and belongs to Argentine tycoon Alejandro Bulgheroni who has been investing heavily in Uruguay. He also owns olive plantations, vineyards and a winery with his brand name.
Durazno Mayor Benjamín Irazabal said that finally after two years all the necessary paperwork, licences and certificates have been completed and construction of the settlement has started.
Oscar Ianni and Alessandro Martelli from Estancias del Lago, as the dairy farm is named, said the preliminary operation and infrastructure should be completed in April 2013 when "we start milking the first 250 cows. By April 2014, we are planning to have 3.300 heifers and by 2015 we should have 8.000 milking cows in full production".
"By mid year we should have the bio-digesters in operation with the cows' dung, generating sufficient methane to impulse thermal energy", said Ianni.
Together with the digesters, the water effluents plant will also be ready by mid year while the different silos for the grains (corn, wheat, sorghum and soybeans) for the cows' meals will be sufficiently advanced.
Currently there are 200 people working in the construction of the different buildings of the establishment.