"Madame President: pls address inflation and rampant crime" demands Argentine organized labour
Thursday, December 20th 2012 - 06:19 UTC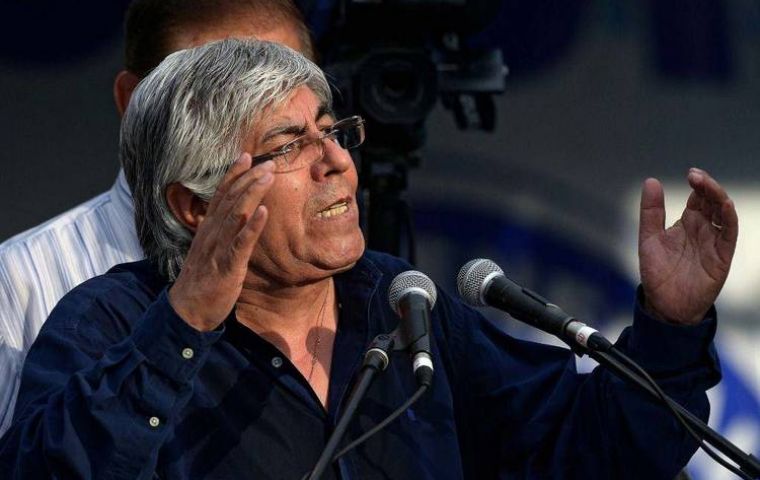 Argentine dissident organized labour concentrated at the emblematic Plaza de Mayo and claimed the government of Cristina Fernandez was applying IMF recipes by halting wage hikes for workers and called on the Lady to address inflation and rampant crime.
"This is no other than what the International Monetary Fund instructed Argentina at the time. This is an undercover austerity measure. When the IMF outlines the policies of those countries that subordinate themselves, the first thing it does is freeze salaries. And the Government has frozen and even reduced salaries" said organized labour CGT leader Hugo Moyano at the Wednesday rally next to Pablo Micheli from another once rival labour organization.
The two leaders, Moyano and Micheli walked down the centre of Buenos Aires followed by numerous columns of followers with flags and banners, and converged from different directions on to Plaza de Mayo. Small farmers associations adhered to the rally as so did some opposition political parties among which the most outstanding the Radicales.
An estimated 100.000 people marched and finally converged on Plaza de Mayo.
Regarding the 2013 midterm elections, Moyano said that "we will have this fundamental tool of democracy, and us workers will vote for those who guarantee our rights. We can't be wrong again! Don't come to us with fantasies of an unfinished revolution".
In 2011 President Cristina Fernandez was re-elected with a record 54% support and thirty points ahead of the runner-up.
Moyano then called on President Cristina Fernández to address inflation and crime rates. "Madame President, please address inflation and security which are the main concern of all Argentines".
The demands by the high-profile labour union groups included wages, family pay packets, inflation, income tax rates and the owed state debt to the unions' health insurance companies.
Miceli underlined the union of organized labour: "we started with a concrete action plan along different paths but now we are showing that things can be done together".
"This rally is not against any government but in self defence and they are not going to have us out of the streets until dialogue is established", added Miceli who insisted in claiming better salaries and a more fair taxing system.
The two labour leaders also called for an independent Justice. "We have a most respectful Supreme Court and this government wants to tread on it. The Court must annul the terrorist bill which is a threat for civil liberties and for unions' rights", said Miceli.
Likewise Moyano demanded that the government respects the court cases favouring old pensioners, who "have been denied justice by the government and like to dress up as the defenders of human rights, what an irony!"