Looting extends in Argentina: two people shot dead, dozens injured in clashes with police
Friday, December 21st 2012 - 22:39 UTC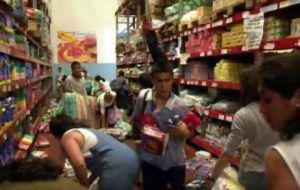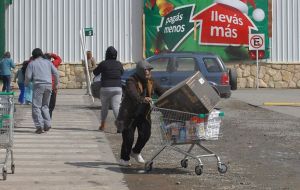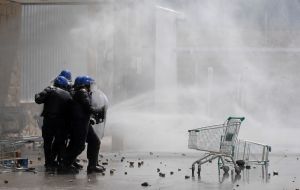 A rash of looting and ransacking of supermarkets in Argentine major cities and several provinces left two people killed, dozens injured and hundreds arrested. The looting and vandalizing of supermarkets began in the Patagonian resort of Bariloche on Thursday and seemingly triggered a knock-on effect across different provinces, as similar incidents began to arise in Buenos Aires, Santa Fe, Entre Ríos and Chaco provinces.
In Rosario one of the victims of the clashes between looters and police, identified as Carina Paz, 36, was shot in the head whilst entering a supermarket. She was pronounced dead at the scene. Rosario police also said that a man was killed after being shot in the chest in Villa Gobernador Gálvez, a town located on the southern fringe of Rosario City.
Argentina's second largest city media reported that at least 25 attacks on supermarkets, furniture stores and small shops were being carried out in the Rosario area.
Various local government officials spoke with reporters over the action being taken in order to control the chaos caused in the different towns and cities.
In Campana, the town's cabinet chief Claudio Rodríguez, assured that over one hundred people had been arrested. "We haven't ruled out a possible political connection," to the crimes, the official added.
Even in the high income neighbourhood of San Fernando famous for its marinas on the Parana River 20 miles north of Buenos Aires police forces had to fight back looters.
Meanwhile four hundred Border Guard officers, deployed by the federal government to Bariloche on Friday to enforce police control after Thursday's violent supermarket looting incidents, which saw more than 33 people injured. Yesterday five large supermarkets were ransacked, leading to violent clashes between police and looters.
According to official reports during night clashes as police tried to restore order, thirty-three people were reported to have been injured including 18 police officers and 15 teenagers.
From El Calafate in Santa Cruz province, President Cristina Fernandez agenda to spend a quiet peaceful family Christmas reunion has been altered. Since arriving on Thursday evening she has been in contact with the cabinet and governors to try and contain the situation from further spreading, and looking for culprits.
At first it was suspected that frictions and disputes inside the ruling Victory Front in the province of Rio Negro to which Bariloche belongs could be behind the uprising or even police discontent following the elimination of special riot units in the province.
However this was quickly discarded after the rival factions closed ranks and the at times overwhelmed Rio Negro police force was relieved to receive support from the gendarmerie.
Now the government guns are pointing to the dissident organized labour led by Hugo Moyano and his allies but this still has to be proved and obviously was rejected point blank by these organizations.