Falklands' Fishing Companies Association in its sixth year of existence
Wednesday, December 26th 2012 - 07:06 UTC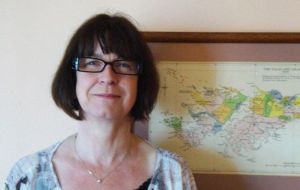 The Chair of the Falkland Islands Fishing Companies Association (FIFCA), Cheryl Roberts, used the occasion of the annual Christmas social evening at the Wirebird last week to reflect on FIFCA's role in what is now its sixth year of existence.
Mrs Roberts began by saying that 2012 had once again seen the Falklands fishing industry continuing to work jointly with the Government Fisheries Department and attending regular meetings and presentations.
She said that FIFCA members had continued to sit on a number of Government and other committees concerned with the industry and the environment.
This, she said, was a useful tool to keep all members updated. The Association was always eager to get members involved so would welcome any new volunteers.
FIFCA had been involved with, but not limited to, discussions on derogations, FIPASS, the port, the harbour fee review, crew safety awareness, Marpol, Plexus Consultants and MPA and had made a presentation on licence fees.
Decisions on a new logo were almost complete, said Mrs Roberts and members would soon be informed, though she found it hard to believe that such a little item could take up so much time and stimulate such debate and passions.
Reporting on the FIFCA stand at the Brussels Seafood Show in April, Mrs Roberts said that it had been very successful and had attracted a lot of interest.
For the first time the stand had been manned continuously by a number of FIFCA members staff. This had ensured that members could better utilize their time rather than have to stick to a rota as had been the case in previous years. FIFCA would be looking at employing similar arrangements for future shows.
The Association's Secretary, Alison Nye, who left the Islands on the previous Saturday, was thanked in her absence for her work; it had been a pleasure to work with her, Mrs Roberts said.
The opportunity was also taken to welcome new board members: Alex Reid and Migs Cofre, and to offer thanks to Tom Blake and Stuart Wallace who had decided not to stand this year. Existing members, Vice-Chair, Hamish Wylie and Drew Irvine complete the Board for 2013.
Finally, Mrs Roberts reported that the Association had just secured new office premises from Golden Touza and would be moving on February 1. The property is leased unfurnished, so an appeal was made to any members who might have some good quality furniture lurking around which required a good home. (PN)