Fuel-price controls force Brazil to import 12bn dollars in oil and refined products
Wednesday, December 26th 2012 - 07:17 UTC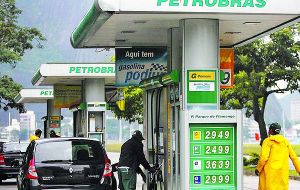 Brazil faces record trade deficits in petroleum products in 2012 and 2013 as a result of government fuel-price controls, problems with its refining system and rising consumer demand, the Folha de S. Paulo newspaper reported last weekend.
Brazil's petroleum and refined products trade deficit will reach 11.8 billion dollars in 2012, the biggest since at least 1995, Folha said. The paper cited a report from Tendências Consultoria, a Brazilian economic-research company.
The year 1995 is the earliest period available in the trade database maintained by Brazil's commerce and development ministry, the paper said.
Tendências expects the petroleum and fuels deficit to rise 46% to 17.2 billion dollars in 2013.
State-controlled Petrobras, Brazil's only refiner and principal oil producer, will likely record a petroleum trade deficit of 9.8 billion, 30% more than in 2011, Folha reported, citing Tendências.
Brazil became a net exporter of petroleum in 2009, but government policy has helped slow oil development and undermine use of ethanol, which was, until recently, the most used fuel for passenger vehicles.
The deficits come despite the discovery of giant, new offshore oil reserves and billions in investment to develop them and expand output from exiting fields.
Brazil produced 2.45 million barrels of oil and natural gas equivalent a day (boepd) in October. About 91% of that was produced by Petrobras.