Cristina Fernandez recommended to ease intensity and will cut short visit to Asia
Thursday, December 27th 2012 - 06:11 UTC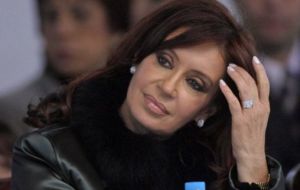 Argentine president Cristina Fernandez has been recommended by her medical team to ease the 'intensity' of her activities and thus will leave Vietnam out of a tour which is planned for next month and includes the Arab Emirates and Indonesia.
According to the Presidential Medical Unit the head of state was strongly recommended to lower the intensity and extension of the coming overseas trip to Asia, which is planned for January 14/19. This would be the third time in two months that the Argentine leader has to change her agenda.
Last November she was forced to cancel her attendance to the XXII Ibero-American summit held in Cadiz, Spain and towards the end of the month the Argentine president was absent from the Unasur summit, in Lima, Peru.
The mid January trip includes a delegation of 200 business people headed by the controversial Domestic Trade Secretary Guillermo Moreno and has the purpose of opening new markets and attracting investments to Argentina.
Cristina Fernandez is known to suffer from "chronic arterial hypotension" which manifests in fainting or blackouts and forces her to remain resting undisturbed usually for a couple of days.
This year that is coming to an end started particularly complicated for Cristina Fernandez since in January she underwent surgery in the thyroid glands which contrary to previous diagnosis the nodules proved to be benign.
In May on a return from a trip to Angola the Argentine president had the flu and tonsillitis. In August she had to suspend a trip to the north of the country because of her chronic hypotension. Two months later a similar diagnosis kept her resting in the presidential palace at Olivos.