Uruguay raises basic rate to 9.25%: "inflation the key risk of the economy"
Saturday, December 29th 2012 - 04:07 UTC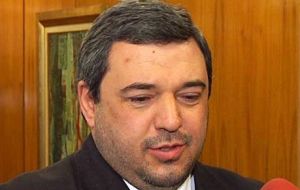 Uruguay's Central bank raised its benchmark interest rate on Friday for the second time this year as policy makers struggle to bring inflation into the government's target range. The IMF and local economists have warned about the need to "tackle inflation", particularly since the budget's fiscal deficit has soared in just twelve months from 0.4% of GDP to over 3% of GDP.
The five-member policy committee, led by bank President Mario Bergara, raised the benchmark rate 25 basis points for a second straight meeting to 9.25%.
"Inflation continues to be the key risk to the Uruguayan economy," the bank said in Friday's statement adding that "both the actual inflation rate as well as agents' expectations remains well above the target range".
"If the inflationary threat isn't decidedly dealt with, we risk interrupting or partially reversing the gains made in terms of growth, competitiveness, poverty reduction and distribution of wealth", continued the release.
Annual inflation slowed to 9.03% in November from 9.11% the previous month, above the bank's target of 4% to 6%t. The Economy Ministry doesn't rule out further measures to rein in inflation, such as postponing water and energy tariff increases and is even considering a reduction in fuel prices.
Consumer prices are expected to rise 8.4% in 2012 and 7.6% in 2013, according to the median estimate in a central bank survey released this month.
The bank said the global economic context still looks weak and uncertain and it expects international interest rates to remain "extremely low for the policy horizon with predictable consequences for capital flows."
The Uruguayan central bank has often warned about the inflow of international capital in search of higher yields that tends to put upward pressure on host currencies, making their exporters less competitive. However, a higher valued currency also tends to hold back inflation as import prices fall.
The bank added that commodity prices remain high and this is leading to inflationary pressures despite the slowdown in emerging economies.
Last December 13 the bank reported that Uruguay's 45 billion dollar economy expanded 3% in the third quarter from a year earlier and 1.2% from the previous quarter. Construction expanded 12%, mainly because of the building of a 2 billion dollars pulp mill in the west of the country, the bank said.
The economy will expand 3.6% this year and 4% in 2013, according to the median estimate of 9 economists surveyed by the central bank in December.
Uruguay's credit rating was raised to investment grade by Standard & Poor's in April and by Moody's Investors Service in July after the country reduced debt and diversified exports. Moody's lifted Uruguay one step to Baa3, the lowest investment grade, and maintained its positive outlook. Fitch Ratings places the country one level below investment grade.
Earlier this month the IMF called on the Uruguayan government to appeal to other tools than interest rates to fight inflation, including cutting back on government spending and moderating wage growth.
"Monetary policy cannot fight inflation alone, given capital inflow concerns; concerted efforts on other fronts are also necessary. In particular, fiscal policy could better support monetary policy".
IMF also pointed out that "recent initiatives to cut/freeze some consumer prices create distortions without addressing the root causes of inflation. In the view of the mission, extensive wage indexation is a key reason why price shocks feed into wages and core inflation".
Slower spending would help moderate domestic demand, alleviate real appreciation pressures, and support disinflation. It would also help secure the authorities' target of reducing public debt to 45% of GDP by 2015. Likewise prudent wage growth is also essential.
Uruguay has been caught between competing policy priorities: inflation continues to creep up, but hiking rates higher might increase already strong capital flows into the country, which risks pushing up Uruguay's currency.
"Short-term capital inflows are presenting monetary policy with difficult choices between lowering inflation and avoiding a sharp (currency) appreciation," the IMF said.
But the Peso remains in line with its fundamental rate for now, meaning inflation is the key risk, the IMF said.