"The Falkland Islands remain free to choose their own futures", FCO tells Argentina
Thursday, January 3rd 2013 - 21:51 UTC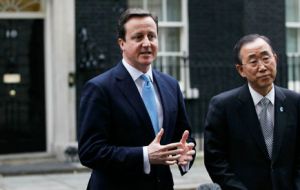 A day after Argentine President Cristina Fernández sent an open letter to be published as an advert in several UK newspapers calling on PM David Cameron's government to re-open negotiations over the Falkland/Malvinas Islands, the UK responded: "the Islanders remain free to choose their own futures."
Cristina Fernández sent the letter on Wednesday, which was published Thursday in some of the UK's biggest national newspapers, on the 180th anniversary of the day the UK allegedly took over the disputed archipelago.
The strong-worded letter addressed to PM Cameron and copied to UN Secretary General Ban Ki-moon said: "Argentina was forcibly stripped of the Malvinas Islands, which are situated 14,000 km from London, in a blatant exercise of 19th century colonialism."
On Thursday the UK's Foreign Office responded, pulling back the focus of the issue to the rights of the Islanders themselves, referring back to the UK's response to the United Nations General Assembly at the beginning of last year.
An FCO spokesperson said: "The people of the Falklands are British and have chosen to be so.
"They remain free to choose their own futures, both politically and economically, and have a right to self-determination as enshrined in the UN Charter. This is a fundamental human right for all peoples.
"There are three parties to this debate, not just two as Argentina likes to pretend. The Islanders can't just be written out of history.
"As such, there can be no negotiations on the sovereignty of the Falkland Islands unless and until such time as the Islanders so wish", concluded the FCO.