Argos Resources storms ahead of its Falklands' oil drilling rivals
Wednesday, January 9th 2013 - 16:50 UTC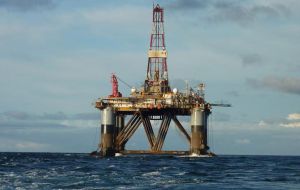 Argos Resources the only Falklands explorer to not drill a well has had the most successful year of them all in share price terms. Results of interpretation of 3D seismic data are encouraging with a number of prospects identified and the company is looking for industry partners to take exploration drilling forward. Year to date share price performance: up 107.92% at 24.95p.
The article published in "This is Money.co.uk" and written by Jamie Ashcroft from Proactive Investors explains the reasons for such a surge.
Having doubled in value in the past 12 months, the drilling company has outperformed its fellow Falklands explorers by some margin. And it had done so without actually drilling a hole. However this is less by design and more by bad luck as it literally missed the boat after the Ocean Guardian rig left the Falklands early last year.
Argos is working to secure as a farm-in partner that will foot the bill for exploration drilling. And it will hope to share the use of the rig heading south to develop the Sea Lion Field, still the only commercial oil to be found in the vicinity.
Last year Argos, which owns the acreage next to Sea Lion, was able to make more sense of its exploration portfolio after shooting a three-dimensional seismic survey.
Through this process it has 'high graded' several prospects that are being described as Sea Lion look-alikes - with the top targets collectively having the potential to contain 2.1 billion barrels of oil (and 7.3 billion barrels if the most optimistic estimates prove correct).
Sea Lion, discovered by Rockhopper Exploration and being developed by Premier Oil, is located just 20 kilometers from the nearest of these Argos prospects. It is this combination of proximity and the huge potential of these targets that has been the driver behind the stock's strong performance in the last year. This and Rockhopper's 1billion dollars deal with Premier to take the Sea Lion field into production.
The tie-up dramatically enhances the Argos investment proposition, according Ashley Kelty, analyst at the City broker Cenkos. He explained that Argos is a beneficiary of the Rockhopper-Premier venture because it lowers the commercial threshold for any future discovery in Argos's territory.
Kelty reckons having the operational Sea Lion field on the doorstep means any Argos find above 50 million barrels would be commercial as it could be tied into Sea Lion's floating production and storage facilities.
'I'm pretty sure Rockhopper and Premier would be absolutely delighted to have someone else's oil going through the facilities to help bring costs down,' Kelty told Proactive Investors.
'It certainly puts Argos in a much better place because they don't need to find 300-400 million barrels for a discovery to be commercial, but the Argos prospects are big enough that if [drilling is] successful, it could support a standalone FPSO.'
According to Kelty the synergies don't end there though, as he believes Premier could be an ideal partner for Argos.
"It is possible that Premier might look to buy a stake in the Argos acreage given the fact that there's a large number, about half a dozen, Sea Lion 'look-a-likes' on the Argos block.
"Also, a number of prospects Premier has identified like Chatham, look like they extend into the Argos acreage as well. I think they'll be looking to go after those prospects and with Argos on board it would make that much easier.'
Premier's hunt to find additional oil in the area could also aid Argos as the former is understood to be talks to bring a second rig down to the North Falkland Basin.
As mentioned, Argos shares have more than doubled in value in the last year, while the other, more established Falkland explorers have come under pressure.
Despite its success Rockhopper has fallen 40% in the last year, as has Falklands Oil & Gas, while Desire has edged down around 9% in that period.
However, the biggest casualty has been Borders & Southern, which has lost 70 per cent of its value. Its drilling results can be described as highly disappointing – at least from an investor standpoint.
'The recent focus [in the market] has been on the South Falkland Basin which has been somewhat disappointing and I think it has tainted the likes of Argos, Premier, Rockhopper and Desire, which are operating in the North Falkland basin," Kelty adds.
'This is quite unfair to be honest, since it is a totally different play and a totally different basin".