P&O cruise line suspends stops in Argentina, confirms calls in the Falklands
Saturday, January 12th 2013 - 18:57 UTC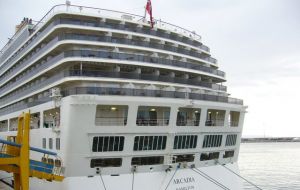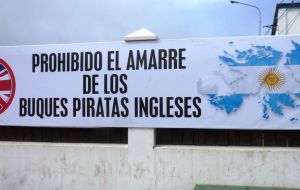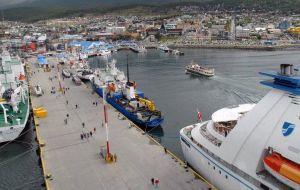 British cruise line operator P&O has scrapped stops in Argentina because of continuing tensions with the country over the Falkland Islands. Two of its vessels will no longer dock at three Argentine port destinations on around-the-world cruises. The decision was taken because there was no guarantee they will be able to dock.
The liners – Arcadia and Adonia – are also visiting Port Stanley, the capital of the Falkland Islands, on the cruises leaving Southampton next month.
Argentine port authorities have recently refused permission for other cruise ships to dock after they had visited the Falklands or have simply adopted a laissez-faire attitude towards radical groups hounding passengers or delaying docking operations.
Thousands of passengers, due to embark on the 95-destination cruises, were informed of the decision last month.
A spokesperson for the company said: "Over the past few months we have been working hard with both the Foreign and Commonwealth Office and our local agents to gain assurances from the Argentine government that our ships will be allowed to call into Argentine ports.
"Concerns have been raised that ships associated with Britain and flying the red ensign may not be permitted to call into Argentina or will be severely delayed, as has been the case on numerous occasions during 2012.
"Despite our best efforts, these assurances have not been received and the risk that we will be refused entry into these ports of call is too high."
"As a British cruise company we cannot allow ourselves to be the subject of any political dispute or put our customers and crew into any situation where their enjoyment may be compromised.
"With this in mind, we have had to take the difficult decision to remove all Argentine ports of call from the itinerary."
P&O will now not dock in Buenos Aires, Puerto Madryn and Ushuaia.
Two cruise ships faced protests in Buenos Aires last month and in the New Year. Seabourn Soujourn and Star Princess were lobbied by protestors on the 4th January. In 2012 the Star Princess was also refused at Ushuaia.
The cancellation of cruise ship calls does not please everyone in Argentina. Many local businesses depend on cruise traffic and they fear long term damage if more and more cruise ship companies cut Argentine ports from their cruise schedules