Twenty four South Atlantic countries meet in Uruguay to promote cooperation
Saturday, January 12th 2013 - 12:00 UTC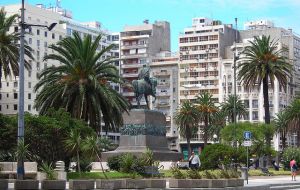 Twenty four countries from South America and Africa with coast on the Atlantic Ocean will be debating next week in Uruguay how to increase cooperation in several fields such as environment, charting and seabed resources exploration and fighting organized crime.
The VII Ministerial meeting of the Peace and cooperation Zone of the South Atlantic was created in 1986 following on a resolution from the UN General Assembly, and will take place on January 15/16.
The meeting is scheduled to work and advance on a Plan of Action adopted in Luanda, Angola in 2007, according to the Uruguayan Foreign Ministry that is organizing and hosting the event.
The purpose is to generate "cooperation mechanisms with visible results addressing environment issues, air and sea terminals security, mapping and exploration of the sea bed and combating trans-national organized crime".
Born as an initiative to promote peace and security in the region and as part of a process to revalue south-south links and cooperation, since first launched it has only held six Foreign ministers meetings, the last of which in 2007.
Ministers of Defence from several of the member countries are also expected to attend the meeting in Montevideo.
The peace and cooperation zone of the South Atlantic is made up of Argentina, Brazil and Uruguay from South America and Angola, Benin, Cape Verde, Cameroon, Congo, Democratic Republic of Congo, Ivory Coast, Gabon, Gambia, Ghana, Guinea, Guinea Bissau, Equatorial Guinea, Liberia, Namibia, Nigeria, Sao Tome and Principe, Senegal, Sierra Leona, South Africa and Togo.