Preparations to mark the 100th anniversary of the Battle of the Falkland Islands
Tuesday, January 15th 2013 - 06:43 UTC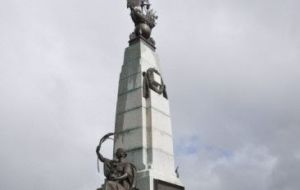 At the invitation of Mensun Bound, some twenty-five people, including three members of the Falklands elected Legislative Council met to consider ways in which the one hundredth anniversary of the Battle of the Falkland Islands should be marked, when it falls on December 8, 2014.
Mr Bound, who is recognised as one of the world's leading marine archaeologists, said that he believed that a serious opportunity would be lost if early steps were not taken to plan for an adequate commemoration of this important event.
Falkland Islanders of his and earlier generations had grown up with the stories of the battles of the Falklands and of Coronel, which preceded it.
One had been the biggest British naval victory since Trafalgar and the other, possibly the biggest single defeat. Both had involved the deaths of thousands of sailors and were inextricably bound up with the history of the Falklands.
There was a general consensus among those gathered that both these events should be commemorated in a special way in 2014. Mensun Bound announced that Mrs Phyllis Rendell, who was unavoidably absent from the meeting, had agreed to act as coordinator of any events and activities which might be planned.
It is expected that another meeting will be held in the near future to consider any proposals that people may have and to begin the planning of their implementation. (PN).-