Venezuela wants best of relations with the US based on 'mutual absolute respect'
Friday, January 18th 2013 - 06:02 UTC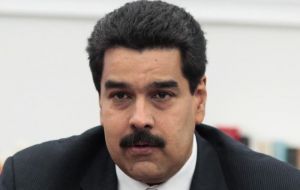 Vice-president Nicolas Maduro said on Thursday that Venezuela is willing to have the 'best possible relations' with the US government as long as these are based on respect and equality. He added that it was President Hugo Chavez who instructed the newly named Foreign minister Elias Jaua on the issue.
"President Chavez has given very precise orders, and he also instructed our new Foreign minister, our dear comrade Elias Jaua that with the government of the US we are always willing to have the best possible relations based on mutual respect and on equality conditions", said Maduro.
The Vice-president who passed on to Jaua the Foreign ministry after six years in the post, said that the US media elite as well as its governments, sooner than later, "will have to acknowledge the new independence of Latin America"
"Latin America and the Caribbean are no longer the backyard of the US elites. Latin America is on its own path in economic and political affairs…This should give way to a new cycle of relations, respectful relations" said Maduro who is head of the Executive since Chavez left for Cuba over a month ago for his fourth cancer surgery.
"In the framework of this new reality, the Venezuelan government will always be willing to have the best possible relations with the governments of the US, at any moment".
But, insisted Maduro "on the basis of absolute respect and non intervention in the internal affairs of our country".
Last 4 January Maduro revealed that at the end of November there had been three contacts between Venezuela and the US in which the establishment of improved relations in the understanding of mutual absolute respect was considered.
Maduro who considered the contacts as 'normal' said they involved the Venezuelan ambassador before OAS, Roy Chaderton and were specifically authorized by Chavez who remains convalescent in Cuba
Although the US remains as the main trade partner of Venezuela, bilateral relations have gone through bad moments, currently probably the lowest since the end of 2010 when ambassadors were withdrawn. Venezuela denied consent to the new US ambassador following statements before the US Congress and Washington left the Venezuelan ambassador in the US with no visa.
Likewise when the US Treasury imposed sanctions on Venezuela's oil company PDVSA for its links with Iran and because of the situation in the Venezuelan consulate in Miami closed for over a year following Washington's decision to expel the head of that office.