Piñera prepared to grant constitutional recognition to Chile's indigenous groups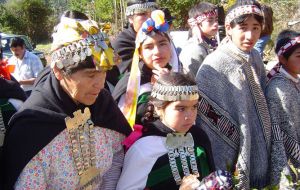 Chilean President Sebastian Piñera pledged to work with "maximum urgency" on a bill that would grant constitutional recognition to the country's indigenous groups. Piñera also announced the creation of an indigenous peoples' council that fully represents "their history, traditions, culture" and via which "they could raise their strong and clear voice about their future."
The remarks were made amid renewed conflict between the government and the Mapuche, the largest indigenous group in the country with a population of almost a million and accounting for 6% of Chile's total.
Three weeks ago, two land owners were killed by radical supporters of the Mapuche people in southern Chile.
Piñera had originally threatened he was prepared to apply the terrorist law, a legacy from the Pinochet dictatorship if violence continued.
If the bill is finally approved by congress, it will recognize the rights of the ethnic groups and the government's obligations toward them, hopefully helping to end years of violence and sabotage in the south of Chile where the Mapuches are demanding not only rights but the return of their ancestral lands.
While Piñera was making the announcement in Santiago two of his ministers, Interior, Andres Chadwick and Social Development, Joaquin Lavin were holding a round of meetings with representatives from the Mapuche peoples as well as officials from the region in the south regions.
"It's not mere chance that the two most backward regions in social and economic development in Chile are La Araucania and Biobio, precisely the regions which concentrate a significant majority of our indigenous peoples", underlined Piñera.
It was also revealed that Chile's national police force fired an officer convicted of killing a Mapuche activist five years ago, a death that has been cited repeatedly by the indigenous peoples as evidence that authorities abuse them with impunity.
Minister Chadwick released a statement praising the decision to fire Lt. Walter Ramirez.
Ramirez was convicted of unnecessary violence resulting in the death of Matias Catrileo, a Mapuche laborer who was shot in the back in Araucania on Jan. 3, 2008. But he wasn't jailed and remained on the force, a sore point for the Mapuches.
"The government fully supports the action of the police," Chadwick's statement said. "Everything that occurred does not damage Chile's police as an institution, quite the contrary – it shows that the force always follows the law."
Ramirez was fired hours after Chile's Comptroller General ruled that an officer can be fired for simply damaging the image of the force.