Paraguay suspended from Mercosur has requested Pacific Alliance observer status
Wednesday, January 30th 2013 - 06:48 UTC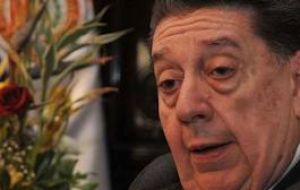 Paraguay has formally requested to become an observer of the Alliance of the Pacific, revealed Foreign minister Jose Felix Fernandez Estigarribia, The Pacific group is made up of Mexico, Colombia, Peru and Chile, and actively promotes foreign investment and the private sector.
"I personally handed Paraguay's request to become observer of the Pacific alliance to Ambassador Ernesto Campos Tenorio, head of the Latinamerica and Caribbean desk at the Mexican Foreign ministry, when he recently visited Paraguay", said Fernandez Estigarribia.
The official underlined that Paraguay has a right to promote its foreign trade and thus join any group it wishes and sees as convenient to its interests.
When asked about the recent CELAC summit (Community of Latinamerican and Caribbean States) which Paraguay did not attend in Santiago, Fernandez Estigarribia revealed that "we did a friendly request, but Chile did not invite us, but those are international negotiations"
The minister also said that Paraguay has been looking with great interest the Pacific alliance, "a trade block started in Lima in 2001, and which is more active in international affairs"
Paraguay is currently suspended from Mercosur and Unasur following the removal of Fernando Lugo from office, sustained on the country's constitutional system, and an almost unanimous impeachment in the Senate. Following the removal of Lugo on June 22, Mercosur and Unasur suspended Paraguay until the new presidential election next April.
It must be remembered that despite the Unasur and Mercosur sanctions, the ambassadors from Chile and Colombia, Christina Maquieira and Jorge Barrantes respectively, returned to their posts in Asuncion last November and after five months of absence.
Likewise officials from Paraguay's Industrial Union, UIP, met last November with both ambassadors, (Chile and Colombia) to discuss 'fluid trade and political links' with the Pacific alliance and "which should be more useful" as far as results than Mercosur.
At the time UIP president Eduardo Felippo argued that Paraguayan businesspeople "no longer think in terms of Mercosur" and prefers the option of the Pacific alliance. "The idea of the business community is to no longer depend on Mercosur".
But "in times of tribulation no brusque movements are recommended" said former Foreign minister Leila Rachid. "Paraguay must look for new markets and trade agreements and the best reference in the Pacific alliance". However since (landlocked) Paraguay has no outlet to the sea "it can't and shouldn't abandon hastily any of the blocks to which it belongs, particularly Mercosur".
Nevertheless Rachid recommends giving up those blocks "which promote the violation of international rules to defend ideological postures such as Unasur".
According to Chile's Foreign minister Alfredo Moreno, the four countries that make up the Pacific alliance represent 35% of the Latinamerica's GDP, over 50% of exports and receive the most foreign direct investment.
Moreno revealed that Spain is the only European country with observer status in the Alliance of the Pacific together with Australia, New Zealand, Canada, Uruguay, Panama, Costa Rica and the latest entries of Japan and Guatemala.