A repeat of Shackleton's epic Southern Ocean crossing reaches South Georgia
Tuesday, February 5th 2013 - 01:10 UTC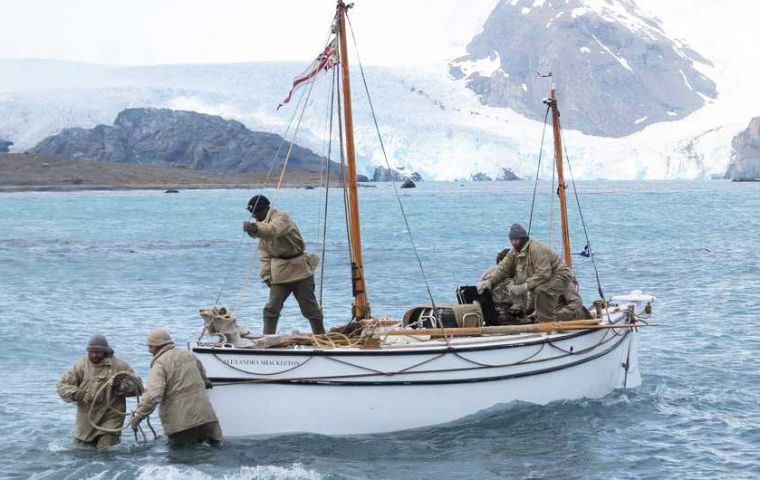 An expedition replicating Ernest Shackleton's 1916 perilous crossing of the Southern Ocean from Antarctica in a small boat has made landfall after a 12-day journey. Led by renowned adventurer Tim Jarvis, the team of six reached Peggotty Bluff on rugged South Georgia, where they landed their vessel in the same place Shackleton and his men beached the James Caird nearly 100 years ago.
The next leg will see three of the British-Australian team tackle a two-day climb to 900m over the mountainous, crevassed interior of South Georgia.
That will take them to the old whaling station at Stromness on the other side of the island, where Shackleton and his men, with little more than the clothes on their backs, raised the alarm about the sinking of their ship, the Endurance.
Mr Jarvis said the boat trip, using only the equipment, navigational instruments and food available to Shackleton, was extremely tough, describing it as "truly about endurance - mental as much as physical".
"There was just no way to keep dry. The waterproofing with wax didn't work," he said.
"Below deck, the boat was constantly damp and being on watch meant that you were directly exposed to the elements. On a few occasions a big wave washed over the deck and down the hatch soaking everything down below."
Along with Norway's Ronald Amundsen, the first man to reach the South Pole in 1911, Australian explorer Douglas Mawson and Briton Robert Falcon Scott, Shackleton was among the great Antarctic explorers.
When he set off on his third trip to the region in 1914 with the Endurance, he planned to cross Antarctica via the South Pole. But the vessel became trapped in 1915, and sank 10 months later as it was crushed by the advancing ice. Shackleton and his crew lived on the floating ice until April 1916, when they set off in three small boats for Elephant Island.
From there, Shackleton and a crew of five made the treacherous voyage to South Georgia, reaching their destination 16 days later to face the mountainous trek. All members of the Endurance mission were eventually rescued with no fatalities.
It was his granddaughter Alexandra who approached Mr Jarvis, who in 2007 re-enacted Mawson's 1912 odyssey across the frozen continent, about recreating their ordeal.