US fund sues YPF and underwriters for a misleading and untrue 2011 prospect
Wednesday, February 6th 2013 - 05:33 UTC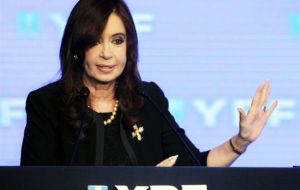 Argentina's oil and gas corporation YPF, seized by the government last year, was sued by an investor who accused the company of making false statements prior to its March 2011 public offering.
The company, its directors and the offering's underwriters made misleading and untrue statements in a prospectus and in documents filed with the US Securities and Exchange Commission, according to a complaint filed Tuesday by Michigan's Monroe County Employees Retirement System in a federal court in Manhattan. The underwriters include Morgan Stanley, Goldman Sachs Group Inc. and Credit Suisse Group AG.
The registration didn't disclose that the company faced a risk of nationalization by the Argentine government, which had increased because of the failure to "adequately produce oil and gas within Argentina" and reinvest a "substantial portion" of profits into operations, according to the complaint.
The Michigan pension fund also said YPF failed to disclose that it was in breach of its concession contracts with provinces in Argentina and that nationalization "would likely have a severe adverse effect on shareholders" and ''on the company's market value.''
Argentina's President Cristina Fernandez administration seized a majority share in YPF from Spain's Repsol last April, which was also named as a defendant in the suit.
The case is Monroe County Employees Retirement System, 13- cv-0842, U.S. District Court, Southern District of New York, (Manhattan)