Argentina labels Uruguayan lawmaker as 'traitor' for observing Falklands' referendum
Wednesday, February 13th 2013 - 19:01 UTC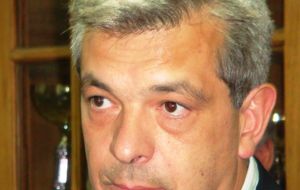 Argentina's president of the Lower House and Malvinas veteran Julián Domínguez described as "treason to Latinamerica" the fact that Uruguayan lawmakers will be travelling to the Falklands to observe the coming referendum on the Islands political status and future.
"It is treason to the whole of Latinamerica that a lawmaker from Uruguay should attend, as he has publicly stated, a referendum on Malvinas, a territory that belongs to the Argentines", said Dominguez.
According to media reports, the Uruguayan opposition National party lawmaker Jaime Trobo in interviews said he will be one of several observers travelling to the Falklands for the referendum, organized by the elected government of the Islands.
"Evidently his attitude does not represent the majority feeling of the Uruguayan people and its government, which has always supported our cause", said Dominguez without mentioning Trobo's name.
Trobo is a strong critic of Uruguay ruling coalition's foreign policy, and more precisely of Foreign minister Luis Almagro mainly for the close alignment with Argentina, Venezuela, Cuba and in the Middle East conflict disregarding long established Uruguayan state policies on those and other issues.
However the invitation to act as observers in the coming Falklands' referendum was made extensive to all Uruguayan political parties in Congress but so far only some members of the National party, on their own account have accepted.
Dominguez made the statements during a ceremony to remember the 196 anniversary of the Chacabuco Battle, which according to the speaker was the first in which South American forces acted in a block.
Last week Argentine Foreign minister Hector Timerman in a London round of contacts said that the Malvinas Islands would be back under Argentine control within twenty years".
However some Falkland Islanders twitted back that "Argentina has more chances of having the flag in the moon in the next 20 years than in Stanley", and added that given Argentina's record and repeated economic disasters, "planning ahead 20 years seems too overly optimistic".
The message ended saying that "we are Falkland Islanders. We are a British Overseas Territory and proud of it" adorned with the image of a Falkland Islands flag and the word Self determination.