Pod of pilot whales found dead after stranding in the east coast of the Falklands
Thursday, February 14th 2013 - 20:46 UTC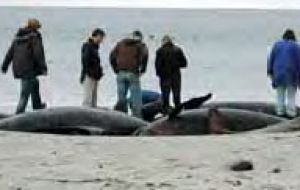 Falklands Conservation confirmed the stranding of long-finned pilot whales including the death of 22 adults on the east coast of East Falkland at Pleasand Roads, half way between Stanley and Mare Harbour.
The initial report was on Monday but by the time a team of Falklands Conservation staff, volunteers and FIG Environmental Officer Nick Rendell visited the site 22 adults stranded over the weekend had already died.
A further 30 whales that were reported swimming in the shallows near the stranded animals were not evident in the vicinity and it is hoped that they had moved off into deeper waters.
Pilot whales are the most common cetacean species to strand on the Falklands' shores. Dr Andy Stanworth of FC says that "cetaceans are difficult to study due to their lives at sea and when stranding occurs at an accessible location, valuable information about the species can be collected if it is done before the bodies deteriorate and are scavenged by birds. On this occasion, information on the body condition and sex were gathered and samples taken that can be used to determine the ages and genetics of individuals within the pod".
Sarah Crofts of Falklands Conservation adds that "the stranded individuals appeared in healthy condition and consisted of both males and females. The largest individual was approximately 6 metres long and the smallest, a female at just under 4 metres. There were no obvious reasons why the animals stranded, although remains of other cetaceans at this site suggest that this shallow sandy beach is a susceptible to such events".
Falklands Conservation says that they would like to thank those individuals who reported the incident and Alan Eagle, manager of Fitzroy Farm. (FIRS)