Financial Times: Argentina-Uruguay: too close for comfort?
Friday, February 15th 2013 - 23:13 UTC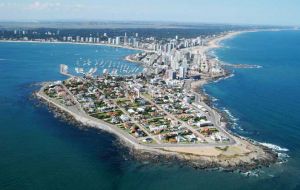 By Jude Webber - On Thursday 14 February the prestigious Financial Times published a piece pointing out the influence of Argentina on Uruguay and its economy. The article is simple and straight and is valid because of the Financial Times unquestionable opinion building capacity, and thus merits reproduction.
Uruguay provides many things to many Argentines but perhaps they can be summed up as follows: beaches, banks and business.
This relationship has long been mutually beneficial – Argentines get access to the dollar and holidays that are this year cheaper than usual as Uruguayans seek to lure Argentines despite foreign exchange controls, while Uruguay gets money flowing in and investment.
But are the ties that bind getting too close for comfort?
Uruguay is also getting some unwelcome downsides: imported inflation, the prospect of economic contagion and a risky dependency on its bigger (but rockier) next-door neighbor, according to Simon Black, self-styled "investor, entrepreneur, permanent traveler and free man", on his blog.
For Uruguay …, it means the property sector is dominated by Argentine buyers. The banking sector is dominated by Argentine capital. The tourism sector (Uruguay's mainstay) is dominated by Argentine vacationers. It's a precarious dependency.
Today, Argentina is imploding… the product of years of disastrous government policies heading for yet another full-blown currency crisis. And as the Argentine economy suffers, it is bleeding into Uruguay.
One of the chief consequences is inflation. As Uruguay imports inflation from both Argentina and United States simultaneously, retail prices from food to fuel to electricity have soared.
Ouch. José Mujica, Uruguay's president, is well aware of that not inconsiderable problem – inflation is running at some 8.7% a year, and is one of his government's top concerns. But he is upbeat, saying recently:
There's no big deal with inflation, it can be reined in and we are going to fix it. I grew up in a country with 70% and 80% inflation.
But perhaps Uruguay can take heart in its business edge over Argentina. Farm groups have quietly been looking at spreading some of their Argentine exposure into Uruguay for some time. Here's why: according to a study by Confederaciones Rurales Argentinas a farmers' group, tax pressure and official policy is wiping out the gains Argentine farmers used to enjoy.
As El Cronista Comercial, an opposition business paper reported:
One example which illustrates the difference in business in both markets is the difference between prices paid to producers … While producers in Argentina were paid 376 dollars for a ton of soybean, in the neighboring country the price was 495 dollars.
Adding insult to injury, Montevideo now ranks as South America's best city to live in, outpacing the Paris of the South over the River Plate, according to a recent study by consultancy Mercer. Perhaps for Uruguay, the pluses of having Argentina next door are still bigger than the minuses.