Correa hopeful Paraguayan elections will be "transparent and democratic"
Thursday, February 21st 2013 - 04:41 UTC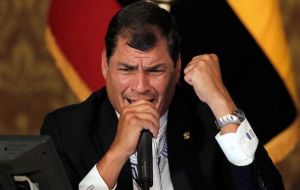 Re-elected Ecuadorean president Rafael Correa is hopeful "transparent and democratic" elections will be held in Paraguay next April, a country with which he is waiting to normalize relations.
"Let's hope it is a true democratic festivity; that elections are transparent and then a legitimate government takes office, because the one now is illegitimate, so that we can establish bi-national and multilateral relations" said Correa during a meeting with foreign correspondents in the capital Quito.
The Ecuadorian leader insisted that what happened in Paraguay last June when Fernando Lugo was removed from office "was a coup, a legislative coup, disguised of legitimacy". He added that despite the time gone by, "we are still convinced that the current government (of President Federico Franco) is an illegitimate government and as such we can't recognize it".
Correa said it was important "to eradicate from Latinamerica this monstrosity of the reiterated coups, now far more sophisticated because they use civilian puppets which they pretend to disguise as legitimate but at the end of the day they are coups; Latinamerica won't overcome underdevelopment until it begins calling things by their right name".
General elections in Paraguay are scheduled for Sunday 21 April. Last June Lugo was removed from office by an overwhelming vote during an impeachment process when he was considered incompetent and inept for office.
A few days before there had been a major confrontation between security forces and landless peasants which ended in a massacre, 16 people shot dead and tens injured.
Following Lugo's removal Mercosur and Unasur withdrew their ambassadors and suspended Paraguay until fresh elections were held. Taking advantage of the situation the other members of Mercosur voted the incorporation as full member of Venezuela, which until then had been blocked by the Paraguayan Senate.