Relations with Cristina Fernandez are "an impossible mission", admits Mujica
Friday, March 1st 2013 - 00:17 UTC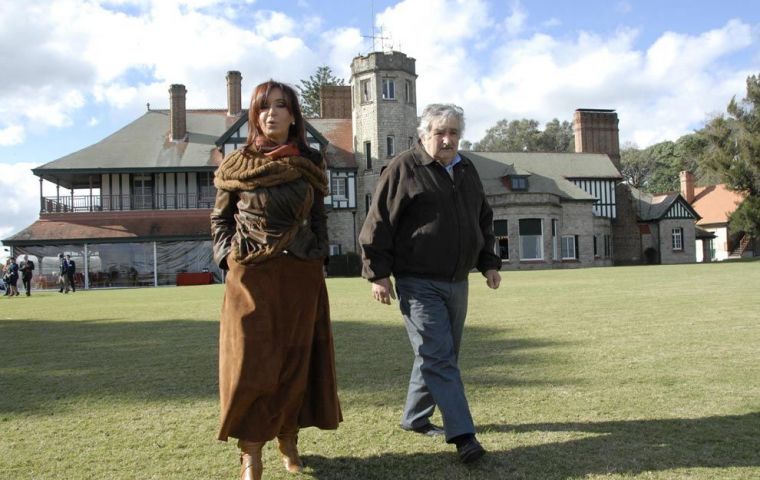 Uruguayan president Jose Mujica admits that relations between Uruguay and Argentina's Cristina Fernandez can be "an impossible mission", but at the same time praised Venezuela's Hugo Chavez "as the most generous head of state he has ever met".
In an interview with the official weekly from Uruguay's Socialist party, Mujica laughing described relations with the government of President Cristina Fernandez as "an impossible mission" given the ongoing misunderstandings of the last ten years, but nevertheless "I love Argentines".
"In Argentina everybody is a Peronist, even those who say they are not Peronists, and they work and communicate in codes which are difficult for us in Uruguay to understand", said Mujica. Nevertheless he admitted having 'great love' for the Argentine people and whatever they do "they will always be flocking across to Uruguay as tourists in summer".
"We're neighbours, brothers and despite natural rivalries and different degrees of stress, we're much closer than we think. A good friend once told me that Uruguayans are like Argentines but with Valium", admitted Mujica.
From 2005 to 2010 Uruguay and Argentina went through one of the greatest diplomatic conflicts in recent history following the building in Fray Bentos on the Uruguayan side of a shared river a pulp plant that has been operating since 2007 and which the Argentine government strongly objected.
The conflict reached the International Court of Justine in The Hague but since Mujica took office in 2010, bilateral relations have improved considerably as tensions eased, contrary to what happened with his predecessor Tabare Vazquez.
This however has not impeded the two countries from again clashing over the dredging of the access channels to the shared River Plate, particularly the Martin Garcia canal which is crucial for Uruguayan exports of grains, pulp and oilseeds from the port of Nueva Palmira.
Another area of contention, as a result of Argentina's currency and imports' restrictions (extensive even to Mercosur partners), is the access of Uruguayan produce (textiles, glass, paper and pulp, plastic, among others) to the neighbouring market.
Likewise Mujica praised the ailing Venezuelan leader Chavez "as the most generous head of state that I have known in the history of Latinamerica".
"Maybe there was someone else, but I don't know about him", added Mujica. Finally the Uruguayan president described Cuba's Fidel Castro as an "exacerbated romantic…now his beard is even longer, he never shaves".