An estimated one million dollars 'trickled' per day from Argentina to Uruguayan banks
Tuesday, March 5th 2013 - 05:33 UTC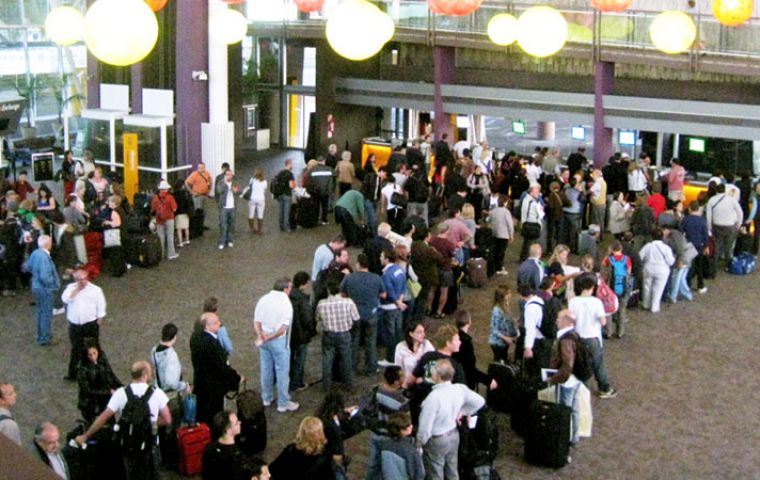 The dollar 'clamp' in Argentina had led to a 'dollar trickle' to Uruguayan banks, which according to official data from the two central banks can be estimated at a million dollars per day.
In effect, US dollar deposits from non residents in Uruguay climbed 14% in December 2012, compared to the same month a year before since they increased from 3.222 billion dollars to 3.675bn, according to Central bank data. Since deposits from Argentines in Uruguay represent between 70% and 75% of total non resident deposits, it can be deducted they grew from 2.416bn to 2.756bn.
In other words the "dollar trickle" which crossed the River Plate from Argentina was approx 340 million dollars in 2012, which is equivalent to a million dollars per day.
Since the Argentine Central bank admitted that last year 3.3bn dollars fled the country, the 'trickle' to Uruguay represented 10% of that total. Further more the 2.756bn Argentines have deposited in Uruguayan banks are equivalent to more than a third of the deposits in hard currency Argentines hold in their domestic banking system which total 7.683bn dollars.
However it must be taken into account that the data supplied refers only to deposits fleeing to Uruguayan banks and does not include the 'trickle' that found its way directly to bank security coffers, particularly in the city of Colonia, which is half an hour by ferry from Buenos Aires. Banks and financial institutions in Colonia have run out of the security coffers where Argentines mistrustful of their government's rapacious policies hide their savings.
The extent of this phenomenon in its different manifestations can be measured by the volume of hard currency deposits in Argentine banks belonging to Argentine residents: since October 2011 when the dollar clamp was first implemented (limiting the purchase of US dollars at the official exchange rate and banning new savings in dollars), the volume of deposits dropped from 14.9bn dollars to half.
And how did the 'trickle' system work last December? Basically the Argentine Customs allowed each traveller crossing to Uruguay to carry a maximum of 10.000 dollars per person, which means a normal family could exit 30.000 dollars: ten thousand the father, ten thousand the mother and five thousand each for the two children under 16 years.