Iranian Majlis assembly prepare to vote on AMIA MoU with Argentina
Monday, March 11th 2013 - 05:43 UTC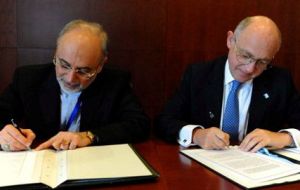 Iran's Foreign Ministry Spokesman Ramin Mehmanparast said on Sunday a recent agreement between Iran and Argentina to set up a truth commission to investigate the 1994 AMIA Jewish centre bombing has been submitted to the Majlis for approval.
"We have presented the agreement to the Islamic Consultative Assembly (Majlis) to be ratified," Mehmanparast told IRNA on Sunday.
On January 27, Iranian Foreign Minister Ali Akbar Salehi and his Argentinean counterpart, Hector Timerman, signed a memorandum of understanding (MoU) in Addis Ababa, Ethiopia, to shed light on the AMIA bombing in Buenos Aires which left 85 people dead. AMIA is the Argentine Israelite Mutual Association.
Argentina's Senate on February 21 gave the green light to the agreement with Iran on the AMIA case with the senators voting 39-31 in favour of the MoU.
Argentine lawmakers later signed the agreement into law after a 14-hour session with 131 ayes against 113 nays.
Spokesman for Iran's Majlis National Security and Foreign Policy Committee Seyyed Hossein Naqavi-Hosseini on March 3 stressed that the deal requires parliamentary approval.
Based on the Constitution, Majlis must ratify all Iran's agreements, accords and memoranda of understanding with other countries.
Argentine President Cristina Fernandez and Timerman have endorsed the agreement, which stipulates that the fact-finding commission, composed of five foreign legal experts, should issue a report after carrying out an evaluation of Argentina's investigation into the issue.
The approval of the MoU was severely criticized in Argentina by the opposition and the media, plus the Jewish community, the largest in the Americas after the US.
Argentine prosecutors after years of investigations allegedly collected sufficient evidence to formally accuse Iran of having masterminded the bomb attack and requested arrest warrants from Interpol of several Iranian top officials including the current Minister of Defence.
The Islamic Republic has categorically denied any involvement in the terrorist bombing.