Argentina furious with Brazil over cancelling of 6bn potash development project
Thursday, March 14th 2013 - 09:07 UTC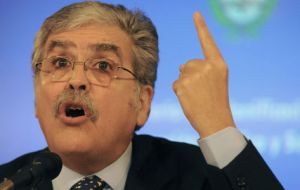 The government of President Cristina Fernandez is furious with the Brazil-based Vale mining company for suspending its 6 billion dollars potash development in Mendoza, the largest investment in Argentina in recent years.
Planning Minister Julio De Vido and Mendoza governor Francisco Perez took turns to bash the Brazilian conglomerate warning that such attitude violates all laws and could end in a breach of contract case.
During a speech celebrated at the Government House, the Minister charged against the multinational funded mining giant by saying "they are violating all national and provincial laws."
"If Vale does not explode the potash reserves in Mendoza as agreed, they will be then breaching the lease-contract signed with the province of Mendoza"
Before De Vido, Mendoza Governor Francisco Pérez gave the opening speech in which he assured that the suspension of Brazilian mining company Vale's project will not mean the end of the venture.
Likewise, Pérez said the project will continue "even without Vale", as it is meant to be a "revolutionary and strategic" project for his province as stressed to be a "soldier of President Cristina Fernández de Kirchner."
Further on he revealed there was a possibility of co-operation between the nation, the province and a third private investor to start a new plan, and bashed the Brasil-based company.
"I still remember when last year the CEO of Vale came to visit to celebrate the starting of the project. Plus, we even received information saying that the project would move from 6 to 10 billion dollars".
Vale reported that it "has pulled out of the Río Colorado project, taking into account that under the current macro-economic context, the economic basis of the project is not aligned with Vale's commitment".
When the news first came out last Monday, the Cristina Fernandez administration initially refrained from commenting. But Pérez, a Kirchnerite, has since commented and on Wednesday counted with the presence of Planning Minister Julio De Vido, and Cabinet Chief Juan Manuel Abal Medina.
On Tuesday, former vice-president and former Mendoza governor Julio Cobos warned that the suspension "should send alarm bells ringing" because it means that the country's current environment is not attracting "genuine investment."
Cobos, a Radical leader, explained that the causes of the situation were spiralling inflation, the double exchange rate (blue and official dollar), the lack of a logistical infrastructure and ever-changing business regulations. The suspension should serve as a wake-up call to government authorities, he said.
Furthermore, Cobos concluded "Argentina needs to offer stability and this can only be done with clear rules and respecting the agreements made."