South Atlantic patrol HMS Argyll saves the life of a Japanese fisherman in high seas
Wednesday, March 20th 2013 - 07:41 UTC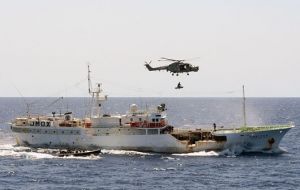 Sailors onboard the South Atlantic patrol Royal Navy HMS Argyll saved the life of a Japanese fisherman who had suffered a serious head injury off the coast of Africa. Approximately 20 miles off the Cape Verde coast she received news that a fisherman onboard the trawler Wakashio Maru No 82 had been seriously hurt in an accident 24 hours earlier.
The Plymouth-based warship immediately sprang into action, deploying her sea-boat and onboard medical officers to the Japanese trawler to assess the extent of the man's injuries.
HMS Argyll's doctor, Surgeon Lieutenant James Perry was quickly able to stabilize the head injury but realised the patient needed urgent hospital treatment. As a result, Argyll's Lynx helicopter was dispatched to the scene, where the injured fisherman was carefully winched aboard and flown to the closest hospital in Praia, Cape Verde.
Flight Commander Lieutenant Ben Jewson, pilot Lieutenant John Phillips and winchman Leading Aircraft Engineering Technician Dan Carroll had to overcome the myriad of obstructions on the deck of the trawler to try and reach the injured man.
Once the fisherman was safely embarked, the Lynx flew to Praia where an ambulance was on standby to make the short sprint to the nearby hospital.
Following the rescue, HMS Argyll returned to her operations working alongside the Cape Verde Coast Guard and judicial forces before continuing her work with west African nations.
HMS Argyll's Commanding Officer, Commander Tim Neild, said that as soon as the call came "our natural reflex to assist a fellow mariner kicked in. We were quickly able to assimilate all the information and put a comprehensive recovery plan in place.
"I am immensely proud of the way my ship's company reacted to this short-notice tasking, which is a testament to the agility and flexibility of the modern Royal Navy, capable of dealing with rescues like this at one end of the spectrum all the way through to 'whites of the eyes' war-fighting at the other. I sincerely hope that the Japanese fisherman makes a full recovery".
On completion of her tasking in the South Atlantic which includes the Falkland Islands and South Georgia among other places, the ship will undertake a number of important regional engagement visits before returning to her Devonport home in September 2013. (DN).-