Brazil/China closer to promote trade in national currencies; announcement at BRICS summit
Friday, March 22nd 2013 - 06:55 UTC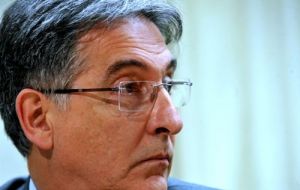 Brazil hopes to sign a bilateral accord with China to promote trade in their national currencies at next week's BRICS summit of the world's five emerging powers, Trade and Industry Minister Fernando Pimentel said on Thursday.
The initiative was tentatively agreed last June with the signing of a memorandum of understanding after a meeting of Brazilian President Dilma Rousseff and then Chinese prime minister Wen Jiabao during the UN summit on sustainable development in Rio.
Pimentel said that at the BRICS summit in Durban, South Africa on Monday and Tuesday "we plan to turn this memorandum into a final agreement which is being finalized by central banks of the two countries".
He gave no details on the deal except to say it would allow "an exchange mechanism in local currency involving up to 30 billion dollars" or nearly half of total bilateral trade.
The proposed exchange mechanism will be discussed at the summit which will bring together the leaders of Brazil, China, Russia, Inida and South Africa.
Chinese President Xi Jinping said Wednesday Beijing hopes that the BRICS summit will make "positive headway toward establishment of a development bank and a joint foreign reserves fund."
Details about the formation of the development bank are expected to be thrashed out in Durban.
Last month, a senior South African diplomat revealed that the five BRICS nations were close to reaching a deal to create the bank, which is meant to fund infrastructure and development projects in member states and developing nations.
He indicated that a capital investment of 50 billion dollars was an amount that all members may be comfortable with.
With a combined GDP totaling around 14 trillion dollars, the BRICS have accounted for 30% of global economic growth since Goldman Sachs coined the BRIC acronym in 2001.