Conservative candidate leads polls in Paraguay April 21 presidential election
Wednesday, March 27th 2013 - 19:12 UTC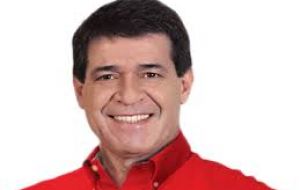 Paraguay businessman Horacio Cartes a newcomer to politics and the presidential candidate for the conservative Colorado party that ruled the landlocked country for decades leads public opinion polls less than a month ahead of the general election.
Cartes, 56, figures with 42.7% vote intention against the 29.2% of his closest rival Efrain Alegre from the ruling Liberal party, according to a public opinion poll by Grau&Associates published in Asuncion daily Ultima Hora.
Another poll with a few days difference published in the same newspaper but from Gabinete de Estudios de Opinion, GEO has Cartes with 36.8% support and Alegre with 35.6%.
In both polls third place goes to television presenter Mario Ferreiro who leads a left-wing coalition with 9.6% according to the Grau poll and 7.7% for GEO.
Pollster Grau said that victory at the 21 April election for the Colorado party and Cartes is 'virtually irreversible' while Jose Nicolas Morinigo from GEO, is inclined to see "a technical draw" with chances for either of the two leading candidates.
Alegre, 50, is a lawyer with a long involvement in politics and belongs to the Liberal party which rules Paraguay since former president Fernando Lugo was removed from office in June 2012 following political impeachment in the Senate for alleged incompetence in the performance of his job.
Former Catholic bishop Lugo in 2008 headed a catch-all coalition stretching from the Liberals to Communist and Trotskyites that defeated for the first time ever a hegemonic Colorado party. But the coalition didn't last much and rapidly split while the Colorado party kept its strong hold on the bureaucracy and military, despite the many purges ordered by Lugo.
Grau said that Alegre has reached the historic roof of the Liberals and the undecided represent 8.9%, so "there should be no great surprises in the coming election". However Morinigo said that it will be a tough fight until voting day since Alegre has much support to the north and centre of Paraguay.
Grau's opinion poll dates from 21 March, with 1.400 interviews and an error margin of plus/minus three percentage points. GEO dates from March 15, with 1.401 valid interviews and 2.6 percentage-point error.