Royal Navy's sixth Type 45 destroyer with the Sea Viper missile defence system ready to begin trials
Thursday, March 28th 2013 - 09:09 UTC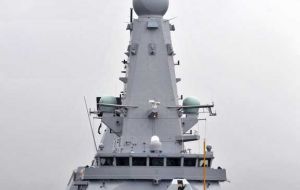 HMS Duncan, the sixth and final of the UK's sophisticated, new class of Type 45 destroyers, has been formally handed over to the Royal Navy by shipbuilder BAE Systems, the MOD announced today.
The 7.500 ton vessel, armed with the world-leading Sea Viper missile defence system, sailed to her new home in Portsmouth where she will undergo a series of trials and tests before being declared suitable for operations next year.
Her arrival at the Naval Base marks the end of a successful 12 year build programme to provide the Royal Navy with a fleet of the largest and most powerful air defence destroyers it has ever received.
Minister for Defence, Equipment, Support and Technology, Philip Dunne said: "The arrival of HMS Duncan in Portsmouth today marks the culmination of the Type 45 programme through which the UK shipping industry has provided the Royal Navy with a fleet of six world class destroyers. Together these vessels are a formidable force and will play an important part in allowing the Royal Navy to protect our interests wherever needed around the world."
Head of the Ship Support Alliance for the MOD's Defence, Equipment and Support Organisation, Commodore John Newell said: "This achievement represents the end of a huge amount of work by both the MOD and BAE Systems and I am delighted that all six ships are now in the hands of the Royal Navy and will soon be ready for deployment wherever that may be."
Commander James Stride, HMS Duncan's Commanding Officer, said: "My team of Royal Navy personnel have been 'standing-by' the build of the ship since the launch in October 2010 and the numbers have now grown to the full complement of 180 men and women who are all now focussed on preparing for our sea training and trials phase under the White Ensign, prior to joining our sister ships on operations around the globe."
The first Type 45, HMS Daring, arrived in Portsmouth in January 2009. She has been followed by HMS Dauntless, Diamond, Dragon, Defender and now Duncan. They will all be based in Portsmouth.
Some facts about the Type 45:
Her hull is made of 2800 tonnes of steel - more than the weight of Blackpool Tower.
The Sea Viper missiles are the size of a telephone box, weigh two thirds as much as a small car and accelerate from launch to a speed twice that of Concorde in under 10 seconds.
Forty tons of paint covering 100,000 square meters of steel has been applied.
At 152m she is longer than 16 double deck buses and she is as high as an electricity pylon.
Her onboard power plant can supply enough electricity to light a town of 80,000 people.
Her fuel tanks are roughly half as big as an Olympic swimming pool.
She has 220 beds, 26 sofa beds, 22 single beds and her own hospital facilities complete with operating table. There are 44 showers, 54 toilets, 100 wash basins and 1 bath onboard.
Her carpet could cover nearly two 5-a-side football pitches and her electrical cable could circle the M25 three times.