Chile, Peru, Colombia and Mexico agree to 'zero tariff' for 90% of inter-trade
Monday, April 1st 2013 - 19:15 UTC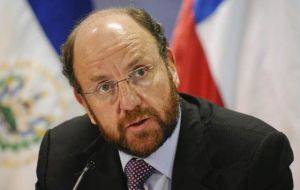 Chile, Peru, Colombia and Mexico plan to sign an accord liberalizing 90% of trade among the group when they meet at the coming Pacific Alliance summit scheduled for May 23 in Colombia announced Chilean Foreign minister Alfredo Moreno.
"We have agreed that 90% of all products currently traded among the four countries will have zero tariff, following the signing of the document while the rest will have a timetable leading to the same objective", Moreno told a meeting of foreign correspondents.
Moreno said the agreement would be signed by presidents Sebastián Piñera (Chile); Ollanta Humala (Peru); Juan Manuel Santos (Colombia) and Mexico's Enrique Peña Nieto in the coming summit of the group that was started in April 2011 in Lima by the four most dynamic economies of Latinamerica representing 35% of the region's GDP.
The summit in Cali, Colombia, the seventh of the Pacific Alliance will also be receiving leaders of countries that have requested to join as observers among which, Uruguay, Canada, Australia; New Zealand, Japan, Spain and Portugal. Two other countries (from Central America) Panama and Costa Rica have formally requested to join the alliance as full members.
The purpose of the alliance contrary to what happens on the Atlantic coast of South America under the leadership of Brazil is regional integration but promoting growth, competitiveness, free trade, sponsoring private enterprise and foreign investment, mainly through the free circulation of goods, services, capitals and persons.
Chilean minister Moreno said that even when there is no direct relation, both the Pacific Alliance and the Trans-Pacific Partnership, (TPP) have as their main objective "to liberalize trade and promote inclusive development".
TPP members include besides, Chile, Mexico and Peru, plus Australia, Brunei, Canada, US, Malaysia, New Zealand, Singapore and Vietnam. Their target: reaching a last generation free trade agreement, said Moreno.
Meanwhile it was announced that the 17th round of the TPP negotiations will be held at the end of May in Lima, Peru.