Buenos Aires collapses after 155mm of rainfall in seven hours flood the city
Wednesday, April 3rd 2013 - 06:48 UTC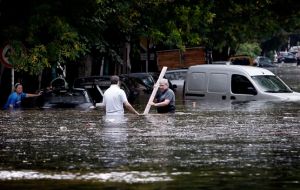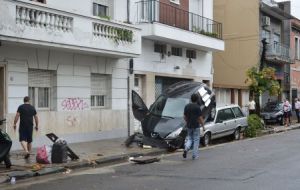 At least eight people are reported dead after torrential rain and powerful winds battered Argentina's capital Buenos Aires and surrounding neighbourhoods flooding streets, knocking out power, downing trees and damaging homes and cars, officials said Tuesday. An estimated 350.000 people have been affected by the floods.
More than 155 mm of rain fell between midnight Monday and 7 am Tuesday the city weather service said which is a record for rainfall in April in Buenos Aires.
According to city's emergency service director Alberto Cresceti confirmed male victims were reported to be 45, 60 and 88 years old while two female victims were 80 and 88 years old.
Likewise as a result of the rains a worker of the underground service was electrocuted while conducting works in a local station as confirmed to the Buenos Aires media by the subway workers' union boss Néstor Segovia. The subway workers decided a six hour strike to protest the lack of security in the service.
Crescenti called on Buenos Aires residents to remain at home given the dangers of lose electric cables while hospitals have been declared on full emergency. Power companies said that preventive and effective blackouts are affecting fifteen neighbourhoods 'to avoid accidents'.
Several areas to the north and west of Buenos Aires are below one metre of water, while the victims of the flooding are reporting in real time and by twitter the extent of the disaster. Rains are forecasted to continue until Wednesday evening when rains will lose intensity.
Buenos Aires city mayor Mauricio Macri named a special task force to address the situation with over 450 people working in the streets to help stranded pedestrians, passengers and drivers. Generators are being supplied to clinics and hospitals.
According to Argentina's National Weather Forecasting Service (SMN), 150 millimetres of water were reported to pour in only two hours in some neighbourhoods of Argentina's capital, exceeding precipitation levels forecasted for the whole month of April.
Mayor Macri brought forward his vacations' return from Brazil to publicly convey his condolences to the victims of the storm that swept dozens of neighbourhoods and explained it was "the second most important storm since 1906", during a press conference.
Likewise, the Mayor reported that emergency crews along with the SAME Emergency Service "have been working since 3:00 a.m". But the reality is that "we have 600 people in our emergency teams and they are not enough to assist the 350.000 people affected by the floods".
Also, Macri explained that the only way to avoid situations like this from happening again is "to start the works to be done in two of the city's underground rivers' watersheds. There are no palliatives for a situation like these. We cannot lie to the neighbours. This can only be solved by performing a mega-work like the one we did in the Maldonado underground river. But this type of works takes at least two or three years."
Furthermore, Macri aimed cannons at the federal government of President Cristina Fernandez, whose officials promptly came on stage to blame the City chief for the disaster.
"It's not good and makes no sense to see national government's officials doing politics with this tragedy that's also the result of works they didn't conduct. The bidding for a public contract on the works was ready four years ago. We had even got approval for international credit, but the national government never authorized the funding from international lenders like the World Bank. Only now the national government seems to approve it" revealed Macri.