"Nothing or nobody" can separate Argentina and Uruguay, Mujica tells the world
Saturday, April 6th 2013 - 04:14 UTC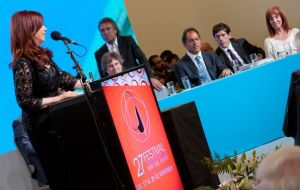 Despite Uruguayan President Jose Mujica had anticipated he would give no further explanations about his at least controversial remarks about Argentina's presidencial couple, Cristina and Néstor Kirchner, the Uruguayan leader on Friday midday stated in his daily broadcast that "nothing or nobody" could separate the brotherly nations.
"Although history brought us apart, nothing or nobody can dishearten our (common) history," Mujica pointed out during his traditional radio message in Montevideo as he commented on Argentina-Uruguay historic ties.
However the Uruguayan leader made no direct reference to the statements that flared up tensions between the two countries when an open microphone caught him calling President Cristina Fernández de Kirchner an "old lady" and her late husband Néstor Kirchner a "one-eyed" person as he complained about Argentina's ongoing import restrictions.
"The old lady is worse than the cross-eyed (one-eyed) man" said Mujica who later added that Cristina Fernandez was very stubborn while her deceased husband far more political.
Other facts have surfaced since of the Thursday event in the farming town of Sarandi Grande, (approx 120 kilometres from Montevideo) where Mujica was holding a meeting with the Florida mayor Carlos Enciso in a packed gymnasium.
Some members of the local media present realized that the microphone for the ceremony, (Mujica was to address the people attending following the signature of several documents) was open but not much could be heard because of the murmuring of the crowd.
It was then that allegedly a member of Mujica's staff discreetly approached the officials and warned about it, but the president quickly replied "what's another sin for the record of a full sinner?"
He went on talking with Enciso about trade relations with Argentina and Brazil and how difficult ('mission impossible') it was to deal with Argentina ('a country with no real democratic institutions'), the Peronists and now Cristina Fernandez. All this despite "they have the best football players, three Nobel prizes in science and now a Pope"
"If they ask you about something they might have overheard, tell them you heard nothing" were Mujica's last words to Enciso before taking to the podium. But things changed dramatically when the 'old lady' and 'one eyed man' reference had been twitted by a local newspaper and obviously immediately 'caught' by the Argentine media and gradually echoed to the rest of the world.
Later mayor Enciso was asked if he had heard the 'explosive' phrase and he replied there was too much noise at the hall and he did not recall.
The order was out immediately to all members of the Uruguayan government to ignore any comments or questions on the issue, and Mujica dedicated his daily broadcast on Friday to elliptically talk about Argentine-Uruguay relations, but with no specific mention of the incident or apologies.
Thursday afternoon the Uruguayan ambassador in Buenos Aires, Guillermo Pomi was summoned by Foreign minister Hector Timerman and presented a letter of protest regarding the incident and described the words used to refer mainly to the deceased Nestor Kirchner as "unacceptable and denigrating".
On Friday also during an event held in the Uruguayan congress, Mujica's wife and Senator Lucía Topolansky told the Uruguayan media that the presidential couple considered the dispute "finished".
The Uruguayan opposition was critical of Mujica's attitude but the prevailing opinion was that relations with Argentina are sufficiently complicated: "we have to help the president; he should start by apologizing, let time make its job and hopefully he won't continue to be so loquacious".
An additional reference should be made since Kirchner was not 'one eyed' but rather cross-eyed; however in the River Plate this last condition is usually referred to as 'one eyed'. Kirchner as a child suffered whooping cough (pertussis) and one of the consequences was the 'stray' eye.
The word however is not that offensive even for President Cristina Fernandez who last November during an official event referred to the fact that some people referred to her deceased husband and the "one eyed president" which obviously also had the subtle connotation of piracy.
"He might have been one-eyed, but he had far better sight than many that have two eyes, contact lenses, glassed and other things. He could see much better, his vision was on target and what he could not see, he had the sufficient insight and intuition with that exceptional intelligence that God provided him with".
The statement was made 23 November 2012 in Mar del Plata during an official Audiovisual Communication Encounter before hundreds of officials, governors and personalities from Argentine and foreign culture at the annual Cinema Festival.