Spain warns it will block all 'by all means' Gibraltar attempts to join UEFA
Monday, April 8th 2013 - 04:42 UTC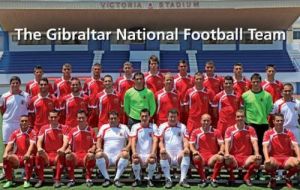 The Spanish Government has declared that it will back legal action by the Spanish Football Federation to block Gibraltar's membership of UEFA. "We will take the necessary measures in our power to avoid a situation which is contrary to the sporting strategy of the Spanish state."
In answer to questions from a Catalan Independentist (ERC) representative in the Madrid Cortes, a Spanish Government spokesman said it is not envisaged that Spain would ever play "against the selection from the British colony" and will do everything in its power so that this "hypothesis never materializes".
ERC (Ezquerra Republicana de Cataluña) "supports Gibraltar's aspirations in parallel to its own claims for secession from Spain and its membership of official international sporting federations in its own right, separate from Spain."
In the reply the Spanish Government spokesman said: "We are currently opposed to the membership of the British colony of Gibraltar of any international sporting federation. We will take the necessary measures in our power to avoid a situation which is contrary to the sporting strategy of the Spanish state."
Spanish press reports state that Madrid has not lodged any appeal against Gibraltar's membership application while noting that UEFA is a private entity with sufficient autonomy to take decisions related to football competitions in Europe. However it expresses its support to "all actions and means of opposition that the Spanish Football Federation are carrying out to oppose Gibraltar's membership."
The Spanish Government maintains that "Gibraltar is a colony and not an independent state recognised by the international community" and that Spain does not recognise "British sovereignty or jurisdiction over areas other than those expressly ceded under article X of the Treaty of Utrecht, in other words the city, castle, port, walls and fortifications."
The Spanish Government said it does not envisage at the present time, any official football match between Spain and Gibraltar and in any case "will do its utmost so that this hypothesis does not materialize."
"If at any moment the possibility of such a match arose, the Government will continue to oppose it with every legal means at its disposal".