Falkland Islands' delegation expected in Mexico to talk about referendum results
Tuesday, April 9th 2013 - 02:10 UTC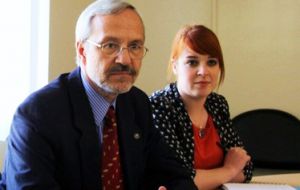 Falkland Islands lawmaker Dr. Barry Elsby and young Islander Krysteen Ormond are expected this week in Mexico with a full agenda of political contacts and media interviews referred to the March referendum when Islanders by an overwhelming turnout and support, 92% and 99.8%, decided to continue as a British Overseas Territory.
Dr Elsby is one of eight members of the elected Legislative Assembly and has visited several other Latinamerican countries including Colombia and Panama. He is accompanied by a young Islander, Krysteen Ormond in representation of the new generation of highly educated Islanders who in a near future are expected to hold posts of political and professional responsibility in the Islands which they call 'our home'.
The three-day visit is scheduled to begin April 10 and the Falklands delegation has appointments with government and private sector officials as well as Mexican university students, an experience similar to that of Colombia.
MLA Elsby will explain to the Mexican officials the referendum process, results and the Falklands' people right to self determination and to choose and decide their political status and future.
Ms Ormod is expected to talk to students about the referendum and also give an idea of what it means living in the Falklands and deciding to remain as a British Overseas Territory.
The Falklands' delegation will emphasize that the message from the referendum has been clear and loud and expect the United Nations to acknowledge and respect the wish of the Islanders as the legitimate voice of the Falklands people.
The two day 10/11 March referendum was organized following UN procedure and with a group of international independent and respected observers, including from Latinamerica to monitor the whole process.
The Falklands have their own elected government that runs all internal affairs with the exception of defence and foreign affairs which rest in the United Kingdom. However foreign affairs are in permanent consultation with the Islanders based on their confirmed wish to remain British and Argentina's determination to claim sovereignty over the Falklands and ignore the existence of a 'Falklands' people".
The delegation will also take time to promote the Falklands as an attractive tourist destination and possibly to talk about the oil industry of which Mexico is a leading producer and supplier of neighbouring United States and a long experience in offshore exploration and drilling.