Overwhelming support for Mujica's comments on Cristina and Nestor Kirchner
Wednesday, April 10th 2013 - 10:22 UTC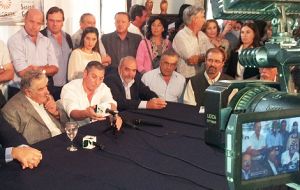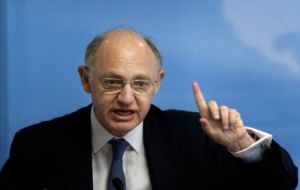 A clear majority of Montevideo residents support Uruguayan president Jose Mujica controversial comments on Argentine President Cristina Fernandez and her deceased husband Nestor Kirchner, "the old lady is worse than the one eyed man", according to an opinion poll made public on Tuesday by a local broadcasting station.
The poll showed not only that a majority support Mujica's comments but also believe that President Cristina Fernandez makes 'political use' of the figure of her late husband and former president Nestor Kirchner.
Pollster Teresa Herrera & Associates did the survey referred to the incident last Saturday involving Mujica in a political rally in a farming town in which an open microphone 'caught' the president's words and also other comments on the Mercosur trade situation, relations with Argentina and Brazil and the fact that "Nestor was more political, Cristina is far more stubborn".
According to the poll, 76% of Montevideo residents agreed with President Mujica comments referred to the 'old lady' and the 'one eyed man', while 24% did not support the statement.
Eleven years ago another Uruguayan president was caught on an open mike saying that Argentine politicians, 'from A to Z are all thieves'. Jorge Batlle had to fly to Buenos Aires for a public apology but an opinion poll in Buenos Aires showed overwhelming support for the Uruguayan president's comments.
Mujica so far has not apologized but in the first broadcast of his daily radio program spent most time talking about the common stock of Uruguay and Argentina and that 'nothing or nobody' can separate Argentina from Uruguay.
The opinion poll also asked if (Venezuelan) acting president Nicolas Maduro in his references to the leader Hugo Chavez, as Cristina Fernandez in her invocation of 'him' or 'he' (Nestor Kirchner) were making political use of the deceased presidents. An overwhelming 87% said yes while only 13% voted negative.
Furthermore and related to Sunday's coming election in Venezuela, a majority of Montevideo residents said they favour Hugo Chavez, but would not like to have a president like him in Uruguay.
A majority, 56%, support the deceased Venezuelan leader and 44% reject him, with the largest support coming from the 40 to 49 years old category and the least from the over 60 category.
However when asked if they would like to have a president like Chavez for Uruguay, 60% clearly said no, and 40%, yes.
Finally the poll asked Montevideo residents: if you were Venezuelan would you vote for Maduro? A majority 67% said NO and only 37%, YES.