Santos leads massive march in Bogotá with a "I believe in Peace" T-shirt
Wednesday, April 10th 2013 - 07:39 UTC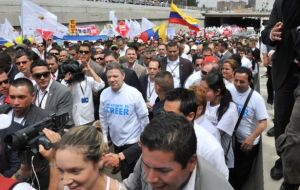 President Juan Manuel Santos led Colombians in a massive march for peace on Tuesday, calling for an end to decades of armed conflict at a time when peace talks in Havana are under fire from extreme conservative groups.
Hundreds of soldiers joined Santos and his cabinet ministers at the Plaza of the Fallen Heroes, one of seven starting points for the march by thousands of people, many of them in white T-shirts and carrying white flags.
"We have to end this nightmare of 65 years," said Santos, referring to the 1948 assassination of liberal leader Jorge Eliecer Gaitan, which ignited a long period of political unrest known as "La Violencia."
"Peace is the victory of any soldier. Peace is the victory of any policeman. If we reconcile, we will have a better homeland," Santos said.
Santos then set out on a march through Bogotá, wearing a T-shirt with the message: "What matters is to believe. I believe in peace."
An estimated 150,000 people took part, waving white banners and wearing T-shirts that read: "We are the generation of peace."
Santos has opened peace talks with the FARC (Colombian Revolutionary Armed Forces), a leftist guerrilla group founded in 1964 that grew out of the lawlessness and ideological divisions that also spawned right-wing paramilitary groups and drug trafficking organizations.
But Santos' peace overtures have encountered stiff resistance from former president Alvaro Uribe, a conservative hardliner who sought to destroy the FARC militarily during his 2002-2010 presidency in which Santos served as defense minister.
On Monday, Santos accused his former boss of trying to sabotage the peace talks by disclosing on his Twitter account precise locations where rebel leaders were to leave Colombia for Havana under a military safe conduct.
Most political parties and a variety of civic organizations support the peace march, but Uribe denounced it as "legitimizing the terrorism of the FARC."
The leftist Democratic Pole also has refused to endorse the march, seeing it as a vehicle for Santos' reelection in 2014.
But some of its leaders were taking part, and the FARC sent a message on Monday saluting "each and every person who has decided to march for peace in Colombia."
Bells were rung in churches across the country at noon as marchers converged on Bogotá's central Plaza Bolivar. White banners and balloons draped from windows of downtown buildings.
A concert and a reading of "A prayer for peace" by Colombian writer William Ospina were planned. Marches also were organized in other Colombian cities.
Over half a century of armed conflict in Colombia is estimated to have left 600,000 dead, 15,000 missing and 3,7 million people displaced by fighting.