Uruguay leads in beef consumption: 60 kilos per capita per year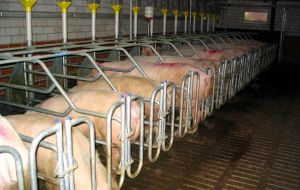 Uruguay's per capita consumption of meats last year reached 98 kilos which represents a 3.4% increase over 2011 and above the average of developed countries that stands at 78 kilos per person per year, according to stats released by the country's National Meats Institute, INAC.
Meats, refers to beef, lamb, pork and chicken, but despite the high volume Uruguay is second to Argentina with 103.6 kilos, particularly because chicken consumption is double that of Uruguay.
However Uruguay continues to lead in beef consumption in the region's countries with 60 kilos per capita per year, followed by Argentina with 57 kilos, Brazil, 37 and Chile, 21.7 kilos.
Last year was similar to 2011 as far as beef, and lamb and mutton consumption are concerned, but alternatives meats such as chicken and pork have started to climb sustainedly.
This is particularly evident in pork since Uruguay opened its market, in the framework of Mercosur, to the Brazilian product, of which Brazil is one of the world's leading producers and most competitive exporter.
A breakdown of consumption shows that Uruguayans last year consumed 4 kilos of lamb; 14 of pork and 20 kilos of chicken.