Crucially different from Hong Kong
Thursday, April 11th 2013 - 15:26 UTC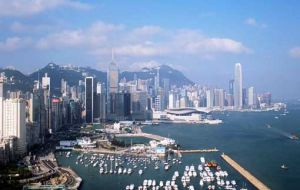 By Steve Tsang (*) - Prime Minister Margaret Thatcher fought a war with Argentina to defend the Falklands, but she negotiated with China over the future of Hong Kong. Should the apparent success of British diplomacy in securing an acceptable future of Hong Kong be a shining example for a similar solution for the Falklands?
Thatcher's answer today would almost certainly have been a simple "no." She preferred to let Hong Kong's citizens choose to stay British – or not. (Ethnicity was not the deciding factor. She did not defend the Falklands because the residents are Anglo-Saxon, and she did not allow for Hong Kong's separation because its residents are mostly ethnic Chinese.)
Thatcher fought a war to defend the Falklands, but she negotiated over the future of Hong Kong. The difference boils down to geography.
Thatcher explored the possibility of returning to China the New Territories, the lease of which was to expire in 1997, but keeping the southern tip of Kowloon peninsula and Hong Kong Island, ceded to Britain in perpetuity. She gave up this idea only after seeing the boundary between the two – which would have been completely indefensible. It is Boundary Street, just an urban road in Kowloon. When Thatcher realized that holding on to Hong Kong proper was not practicable, she used diplomacy to negotiate with China for the best deal she could get for the people of Hong Kong.
It was not a deal that people in Hong Kong particularly wanted. They accepted it because there was no choice. Sixteen years later, significant voices in Hong Kong have called for a return to British jurisdiction.
Hong Kong since 1997 has stayed prosperous and stable, but genuine democratization is not allowed. As a model, it does not appeal to the Falklanders. Since this time Britain can afford to grant a choice, the citizens should be allowed to choose their own future.
(*) Steve Tsang a professor of contemporary Chinese studies at the University of Nottingham and the director of the China Policy Institute is the author of among other books "A Modern History of Hong Kong"."