Cristina Fernandez calls on the US to recognize the Venezuelan government
Wednesday, April 17th 2013 - 07:54 UTC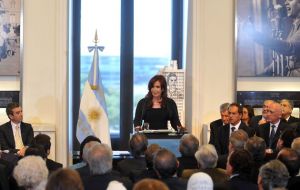 Argentine president Cristina Fernandez demanded the United States "recognizes the Venezuelan government" following on Sunday's election in which Nicolas Maduro was confirmed as president despite a very tight margin (just over 1% of ballots) and challenges by the opposition candidate.
During an official ceremony on Tuesday in Government House (Casa Rosada) the Argentine president made several announcements referred to domestic issues and ended her speech with a request to the US.
"With all humbleness we request the US government to recognize the Venezuelan government following free transparent elections" said Cristina Fernandez, adding "it's the best way to achieve and ensure peace".
After the president was informed that opposition candidate Henrique Capriles who has challenged Sunday's results and considers Maduro an 'illegitimate president' had suspended the "march on Caracas" called for Wednesday, she described the decision "a sensible, patriotic, pro-peace decision".
Likewise the Argentine leader praised the Venezuelan electoral system and its guarantees as well as Electoral Council: "in how many elections did Venezuelans vote during Chavez time: ten, twelve, fourteen, there's no way to question results".
Cristina Fernandez also announced that on Friday she will be attending the taking office ceremony of president-elect and interim-president Nicolas Maduro. "We will be there with our South American brothers to give Maduro all our support". She added that in democracy you win or lose by one vote, ten votes or a million votes, "sure it's very hard losing".
So far only the Organization of American States and the US government have expressed support for the request of a recount of ballots given the very tight margin of Maduro's victory.
According to the National Electoral Council Maduro on Sunday received 50.66% of ballots and Capriles, 49.07%, with a difference of 265.000 votes in 14.9 million ballots effectively cast.
Cristina Fernandez during her conference talked about the recent floods when 57 people died, demanding a doubling of efforts from the national, provincial and city governments, and in the immediate for local authorities to ensure pluvial and sewage drains are kept clean free of garbage and clogging.
However she made no mention to a Sunday report by investigative journalist Jorge Lanata that involves her late husband, Nestor Kirchner and businessmen close to the powerful couple, in laundering money overseas and influence peddling.