May peace prevail: Cristina and Mujica fly together to Peru on Tango 01
Friday, April 19th 2013 - 03:14 UTC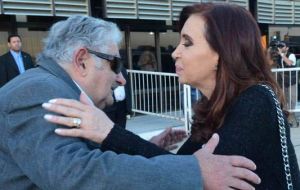 Sooner than expected Argentine President Cristina Fernandez seems to have accepted her Uruguayan peer Jose Mujica's apologies following his coarse words: "this old lady is worse than the one-eyed man" to refer to the Argentine leader and her late husband Nestor Kirchner.
On Thursday evening the two heads of state shared the Argentine presidential jet Tango 01 to fly to Lima, Peru for an urgent meeting of Unasur.
Both leaders will participate in the extraordinary meeting of Unasur member presidents to address the Venezuelan situation and then will fly to Caracas for the inauguration of Nicolás Maduro on Friday.
"Yes I am a bit stubborn and I'm old also, but after all I'm fortunate to reach this age, isn't it?, twitted Cristina Fernandez adding that "And this is particularly true if I have been able to make things that the motherland needed. Keep cool, all is fine"
Mujica arrived in Buenos Aires Thursday afternoon and both were expected to use the several hours flight to discuss the Uruguayan president controversial statements when, with an open microphone during an official ceremony in Uruguay, he was caught saying "this old lady is worse than the one eyed".
The Uruguayan president had to ask for an apology after his statements. He did so in several of his radio programs and in a personal letter, the content of which was not made public.
Mujica was scheduled to travel to Lima in a commercial flight Thursday morning when the Argentine president called and invited him to the Tango 01, as when the two attended President Hugo Chavez funeral in Venezuela.
Cristina Fernandez was waiting for Mujica at Buenos Aires Aeroparque where they held hands and exchanged a kiss as if nothing had happened, before boarding Tango 01.
Uruguayan diplomacy was expecting the leaders' meeting to take place in Lima or in Caracas.
The Argentine delegation to Unasur is composed of Foreign Minister Héctor Timerman, Federal Planning Minister Julio De Vido, Legal and Technical Secretary Carlos Zannini, Secretary General Oscar Parrilli, and Secretary of Public Communications Alfredo Scoccimarro among others.