Two million Argentines across the country join the biggest anti-government protest in years
Friday, April 19th 2013 - 05:03 UTC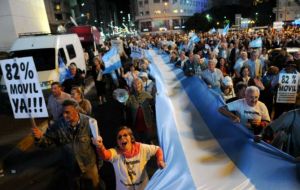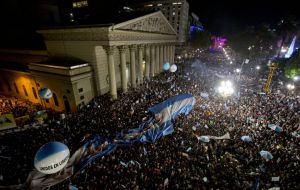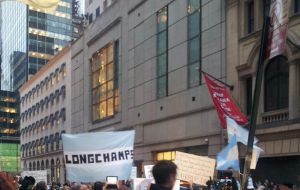 Almost two million Argentines marched on Thursday evening across the country's cities and towns in one of the biggest anti-government protests in years highlighting public anger over a deteriorating economy, corruption, street crime and President Cristina Fernandez efforts to reform the media, the courts and the constitution so she can bid for a third consecutive four year mandate.
The A18 demonstrations were peaceful, congregated through the social networks, with only Argentine flags, no political identifications and with no police on sight. Many banged pots and pans and other objects, a traditional form of protest, while others carried signs with slogans such as "Argentina, wake up!", "Corrupt Cristina" and "If our leaders are corrupt, we lose our respect for them".
Political analyst Jorge Castro described the marches as spontaneous, horizontally organized and warned that "no political party or political leader in Argentina is capable of such a rally".
However several prominent opposition politicians joined the march, which according to officials from Buenos Aires City convened over a million people, in emblematic places such as Plaza de Mayo, the Obelisk, the 9 de Julio avenue plus in the different neighbourhoods of the city, which television coverage showed packed.
Marchers disbanded peacefully flying Argentine flags and singing the national anthem with calls of 'long live Argentina'.
Buenos Aires City has long been a refuge of opposition to the ruling Peronist movement and the same with Cristina Fernandez and her late husband, Nestor Kirchner, who between them have governed Argentina since 2003.
Despite a decade of strong economic growth and falling unemployment following the debacle of 2001/02, Cristina Fernandez popularity has slid over the past 18 months as voters criticize the mismanagement of the economy, rampant corruption with each exposure closer to her family and acolytes, crime and insecurity, and her arrogant style or government increasingly authoritarian.
Argentina's inflation is one of the highest in the world, 25% with expectations of 30% in the next twelve months despite the government's efforts to freeze basic food, house appliances and textile prices.
After winning re-election by a historic 54% in 2011 and thirty points ahead of her runner up, somehow Cristina Fernandez has managed to clash with farmers, trade unions, the Catholic church, the construction and manufacturing industries, the media, particularly the `powerful Clarin group which she wants dismembered and now the courts with a highly controversial reform criticized by lawyers, Law schools, judges and former magistrates, the Church, court staff unions and even among her own ranks in Congress.
The judicial reform which she is pushing through Congress with her majority in both houses would allow, among other things the Executive to have even greater control over the Judiciary and more influence in appointing 'friendly' judges.
Cristina Fernandez was not in Buenos Aires during the protests since she flew to Peru for a Unasur extraordinary summit in support of Venezuelan president Nicolas Maduro, whose victory and proclamation has been questioned by the opposition candidate Henrique Capriles. The vote difference was a mere 1.7% in 15 million cast ballots and Capriles is demanding a recount.
But from Lima the president twitted it is 'ok to protest against the government', however she asked 'everyone to help make Argentina a better country'.
"If you like to protest, that's fine, but it would be good, if all of us can help," the President said shortly after the new massive protest against her administration, identified as "18A" took off.
President Cristina Fernández also requested to maintain "the proactive spirit that has surfaced" among all Argentines after floods in La Plata and the city of Buenos Aires.
The flash floods following record rainfall in few hours left over sixty people dead, hundreds still homeless and millions of dollars in losses, which has further infuriated public opinion as details of the recurrent problems emerged.
In effect the projects and blue prints to help drain the flash floods and keep sewage and pluvial networks clear exist and are only waiting for the funds, which the federal government for political reasons has been reluctant to liberate.
Besides Argentina from Sindey to Milan the Argentines marched.
Several hundred people gathered in front of the New York City Argentine Consulate. They sang the National Anthem and chanted repeatedly 'Argentina sin/without Cristina.'
Clearly, they sought to support the massive, 2 million plus protests all over Argentina, which were taking place at the same time. It would appear that the Consulate had been vacated by consular staff, and the lights were off. One observer remarked, "Perhaps the consular staff were sheltering in one of the multi-million dollar luxury Park Avenue apartments owned by Cristina."