Cristina Fernandez hosts Rousseff to address political and trade issues
Wednesday, April 24th 2013 - 06:50 UTC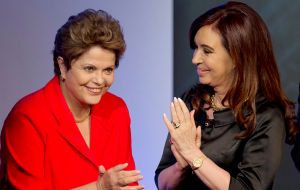 Brazilian president Dilma Rousseff will travel to Buenos Aires on Thursday for a two-day meeting with her Argentine counterpart Cristina Fernández and discuss political and trade matters between the two countries after an imports drop in Argentina last year and the cancelling by Brazil of a major investment project.
Rousseff assured: "We have a broad agenda with Argentina. We always discuss our relations in all areas (…) and will discuss them this time as well."
Rousseff and Fernández meet approximately once every three months; however, the last one was suspended due to death of Hugo Chávez on March, 5. The Brazilian leader stressed that all affairs will be addressed including the recent decision of the Vale mining company to suspend the 5 billion dollars potassium production project in Mendoza, which included a railway and an export port close to Bahía Blanca.
Soaring costs in Argentina, labour conflicts including death threats to the officers responsible for the project and provincial taxes (not included in the original project) are among the reasons alleged by the Brazilians to suspend the project and their managers to abandon Argentina.
The Argentine government has sided with the unions' demands and is not clear about the decision from the province of Mendoza to slap taxes on the project and not incentives as was originally considered. The suspension of the project meant the 'demobilisation' of 6.000 workers and Argentina's largest foreign project in years.
However despite the discrepancies the Brazilian Foreign minister Antonio Patriota has insisted that the relation with Argentina is 'strategic' and there is no Plan B as demanded by much of the private sector more interested in other trade partners.
"With Argentina trade situations can emerge but it is a strategic partner. Our future is indissoluble and together we'll go further than on our own. There is no Plan B as some business people are demanding. This does not mean we will work to overcome difficulties", said Patriota.
The Foreign minister said that diplomacy "is always there to try and fix things, of getting issues on track, but we must also admit that there are decisions from the private agents. In the case of Vale it was the company's board decision".