South American football president resigns on 'health and personal grounds'
Wednesday, April 24th 2013 - 05:56 UTC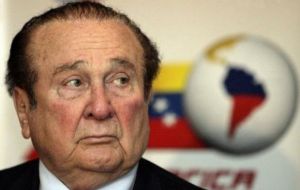 South American football president Nicolas Leoz has resigned on Tuesday from FIFA powerful executive committee on "health and personal" grounds. Leoz was accused by the BBC Panorama program in November 2010 of taking bribes in the 1990s from the now defunct sports rights agency ISL.
The 84-year-old, who denies the claims, has been ill for some time. His resignation comes in the week that a 4,000-page report by FIFA ethics investigator is set to be made public.
The 'most influential' Paraguayan has been a member of FIFA executive since 1998. He was president of Club Libertad during the 1970s and the team now plays at the Dr Nicolas Leoz stadium. The Club Libertad was later under the presidency of Horacio Cartes, who was elected Paraguayan president last Sunday.
"I have invited you to this meeting to share with you my retirement from FIFA," Leoz said before adding that he had informed President Sepp Blatter of the news.
"I'm announcing my retirement from all FIFA committees because it's important for my life," Leoz continued. "I still have good mental health but physically I'm often impeded. I feel very happy, because I'm retiring with the tranquility and knowledge of having done a sincere and honest job."
A file prepared by investigator Michael Garcia was passed to Hans-Joachim Eckert, the world governing body's ethics judge, several weeks ago. Eckert may also make recommendations for further action to be taken against serving FIFA personnel based upon the report.
In 2011 former Football Association chairman Lord Triesman alleged that Leoz had asked for knighthood in return for supporting England's bid to host the 2018 World Cup. Leoz, who is also set to leave his role as president of South American football confederation Conmebol, denies Triesman's claims.
It was later reported that an aide to Leoz proposed to the England 2018 bid team that the FA Cup should be renamed in his honour in return for him agreeing to visit England.
Responding to the resignation, a FIFA statement read: "In accordance with the Fifa statutes, Conmebol will now have to decide immediately on the replacement of Nicolas Leoz as one of its representatives on the FIFA executive committee for the remaining period of office".
When the 2002 World Cup in Japan and Korea the Emperor and Empress of Japan visited Paraguay as part of the lobbying task. In Asunción they attended Dr. Leoz office to request the support from the South American football confederation which apparently he granted. The all powerful Paraguayan had the imperial wait for fifteen minutes before receiving them.