Argentina industrial production down in March and in first quarter compared to 2012
Friday, April 26th 2013 - 07:36 UTC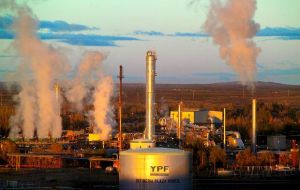 Argentina's industrial output registered a 0.3% drop in March year-on-year, according to Indec the official statistics bureau. The report stated that the manufacturing activity climbed 1.5% compared to February and dropped 0.4% annually in the first three months.
Use of the industry's installed capacity reached 72.5%, a percentage point higher than the previous month but almost three down from the 75.3% of a year ago. Oil refining had the best performance with 88.3% followed by basic metals (83.5%), non metal mineral products (81.1%) and automobiles (80.9%).
The Indec survey showed that the food industry output in March was down 1.2% over the same month a year ago with the greatest drop in the dairy industry, 11.8% followed by beverage, 6.5%; chicken, down 3.6% but beef was up 9.6%.
The metal mechanic sector production was down 11.5% followed by textiles, 8.7% and the basic metals industry, also down 2.2%. At the other end the auto industry climbed 18.4% and oil refining 7.1%
As to expectations, 70.5% of surveys anticipate a stable domestic demand in the second quarter of the year compared to the same period last year while 17.3% forecast an increase and 12.2% a contraction.
With export industries, 60.2% estimate a stable rhythm in total overseas sales for the second quarter, with 24.5% anticipating an increase and 15.3% a reduction.
Asked specifically about exports to Mercosur (mainly Brazil) 68.8% estimate a stable level compared to the second quarter of 2012, with 19.8% expecting a better performance and 11.4% the opposite.
Regarding import of inputs for industry, 72.9% expect a stable second quarter, with 16.7% anticipating an increase and 10.4% a decrease.
Finally 98% of companies surveyed don't expect changes in the number of staff compared to the second quarter of last year.
Earlier information from Indec indicated that Argentina's March trade surplus tightened to 510 million dollars compared with a revised 998 million in the same month last year. The figure came in below the 750 million dollars median estimate given by private analysts.