Argentine and Chilean ports publish book to promote cruise visits to Patagonia
Tuesday, April 30th 2013 - 07:22 UTC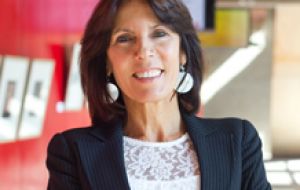 Five Argentine and Chilean Patagonia ports have teamed up to promote their tourism attractions and potential for the cruise industry by launching a hardcover limited edition book (1.000), in English and Spanish, with digital support under the heading of "Patagonia, cruises destination".
The ports involved are Punta Arenas, Chacabuco, Puerto Montt, Puerto Madryn and Ushuaia and the launching of the book took place in Punta Arenas with the attendance of Chilean Tourism Under Secretary Jacqueline Plass plus regional and local officials and representatives from the cruise and tourism industry and from the ports belonging to the project.
Jose Barría head of the Austral Ports Enterprise which manages Punta Arenas terminal and who hosted the event, pointed out that the book besides all the natural attractions and wildlife pictures also provides data on the logistics development of the region, air and port terminal facilities, ground connections, support for the tourism industry and above all advances in providing services to the cruise industry.
"There are abundant full colour pictures but what is really interesting is all the data supported by numbers and graphics of all that has been achieved and provided by the governments of Chile and Argentina in logistics", said Barría.
The book also mentions other potential terminals to be added in a near future: Castro, Natales and Puerto Williams.
The edition is mainly targeted for the main cruise companies in the world and the decision makers linked to Magallanes Region and Patagonia.
Under Secretary Plass revealed that Chile received 250.000 cruise visitors, and expects to increase the number, but also pointed out that cruise visitors have a different profile. "They are older people and want to be treated as 'princes', and the majority of our ports still are not prepared to provide such services demanded, ant that is our great challenge".