Falklands' companies receive 'Superior Taste Award' for Islands' squid in Brussels seafood fair
Tuesday, April 30th 2013 - 19:03 UTC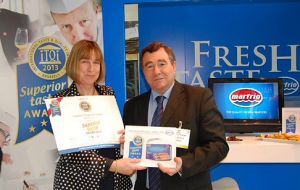 Two Falkland Islands fishing companies were awarded in Brussels last week the Superior Taste Award which was extended to Marfrío a Spanish processing company that works with Patagonian squid caught in the Islands waters.
The award one of the most prestigious in worldwide gastronomy, ITQI, and with Michelin guide stars, was delivered at a special ceremony in the framework of the Brussels Seafood Exposition to Cheryl Roberts, South Atlantic Squid and Igueldo Fisheries Director that supplies Marfrío with Falklands' squid.
In their second year of entering for these awards Patagonian squid has managed to improve its rating and move from one to two stars.
Pedro Otaegui, Marfrío CEO, was chosen to receive the award for Floured squid, produced by Marfrío from Patagonian squid, and in its first time entering has also achieved the distinction of two stars.
The breaded squid strips (also awarded in 2012), paella and squid ring have been raised to one Superior Taste star.
The International Institute of Taste and Quality of Brussels (ITQI) makes its ratings in blind tasting with 60 restaurateurs of the most prestigious associations in Europe which evaluate criteria such as appearance, smell, texture and taste of the products, in this case the Patagonian squid.
Marfrío is once again the premier Galician and Spanish frozen fish company honoured by ITQI. The distinctions received helps to strengthen the loyalty of their customers, who a few months ago and for the second consecutive year, have put their trust in the breaded squid strips, floured squid and delicious battered seafood rings, rewarding them with the seal Taste of the Year 2013 award which reflects the high quality standard of all the company's products.
With this professional recognition Marfrío gives added value to their products and sets them apart from their main competitors in an increasingly globalized market.
At this year's fair Marfrío introduced for the first time their new breaded Swordfish snacks. This is a top quality product presented in a handy format that allows the consumer to prepare easy, healthy and tasty dishes in less than 10 minutes and soon to become part of Marfrío's main product range. As in previous years, there were also samples of their main product range.
The Seafood Exposition in Brussels is considered the top fair in its field and reference in the European Union.