British tax havens will have to open their banking systems to UK and EU scrutiny
Thursday, May 2nd 2013 - 07:56 UTC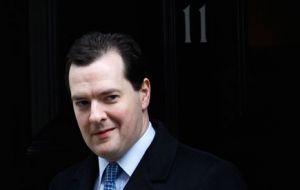 Tax havens such as Bermuda and the Cayman Islands will work more closely with Britain and other European countries to fight tax evasion, British finance minister George Osborne said.
With governments in most advanced economies short of tax revenue after the financial crisis, pressure has been growing on small territories with big banking sectors to lift bank secrecy and do more to combat tax dodging and money laundering.
The United States has been in a lengthy dispute with Switzerland over the latter's bank secrecy rules, while the European Union also has turned up pressure on two of its smaller members, Austria and Luxembourg.
Austria in turn has accused Britain and the United States of shielding their tax havens.
Now British overseas territories such as Bermuda, the Cayman Islands and the British Virgin Islands - which are effectively colonies with some self-government - will have to automatically provide details the ownership of bank accounts, and about how they are used, Britain's finance ministry said.
"This represents a significant step forward in tackling illicit finance and sets the global standard in the fight against tax evasion," Osborne said.
The information will be shared by Britain, Germany, France, Italy and Spain, which agreed in June last year to work together to combat tax evasion.
The Isle of Man also will be subject to the deal, but two other major offshore centres, Jersey and Guernsey, have not yet agreed to share information with countries other than Britain.
The other territories affected by the deal are the Caribbean islands of Anguilla, Montserrat and the Turks and Caicos.
Britain has made fighting tax evasion a priority while it chairs the G8 group of advanced economies this year, and in two weeks it will host a meeting of finance ministers from the bloc. However, Britain also faces problems of its own in being certain that companies comply with its tax laws.