Falkland Island's: Argentina reclaims "absolute and exclusive sovereignty over the Islands"
Thursday, May 2nd 2013 - 06:12 UTC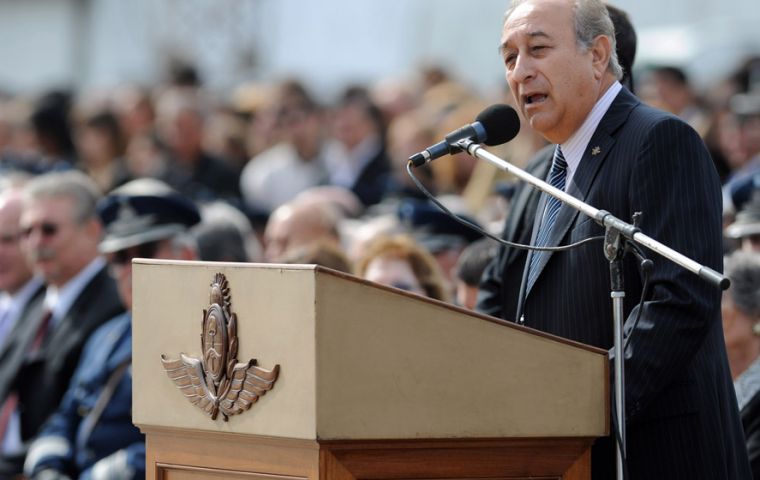 Defence minister Arturo Puricelli said that Argentines "are not prepared to tolerate the usurpation" of the Malvinas Islands 'for the rest of our lives' and the honour and glory for those who fought in the South Atlantic "is going to be recalled until we obtain absolute and exclusive sovereignty over our Islands".
"For us Malvinas is a cause that will never prescribe in the life of the nation and will only end the day the Argentine flag is flying over the Malvinas and South Atlantic Islands" added Puricelli during a military ceremony to commemorate the 31st anniversary of the Argentine Air Force 'baptism of fire' on May first 1982 during the Falklands conflict.
The ceremony at the El Palomar Air Force base was also attended by the Argentine Armed Forces Chief of Staff, Jorge Chevallier, the head of the Air Force, Normando Constantino, other government and provincial officials, lawmakers, local magistrates, members of the three forces and Malvinas Veterans and Next of kin.
"We feel in this cause supported and accompanied the peoples and governments of the South American countries and so many others in the rest of the world", added the minister.
Puricelli said that it is of special concern to the Argentine government "the design of a military instrument which fully guarantees the national defence all along our jurisdiction in the sea, the air and the ground".
"Our commitment is to continue training men and women so that they belong to the Armed Forces of our nation with the same interest, courage and heroism displayed by the men, women, military and civilians during the South Atlantic war without asking for explanations, only dedicated to honour the allegiance to the flag".
The minister during his speech transmitted "the greetings and acknowledgement of President Cristina Fernandez to the relatives of those combatants who lost their lives in the war and to the veterans who with the same courage and commitment were able to survive those heroic days".
During the South Atlantic conflict the Argentine Air Force lost 55 personnel and almost of its combat wings. According to the Argentine version of events on May first after the British bombarded Falklands' air strips, they were ready to land in the Islands but the Argentine Air Force reaction was immediate.
That May first started the "Air Battle of the Malvinas" and the Argentine combat aircraft at the end of the day had completed 57 attack and cover sorties against British naval targets dropping 20 tons of bombs.
Wednesday's ceremony in El Palomar following the speeches ended with a military parade and an over-flight of Hercules C-130 and Bell-212 helicopters.